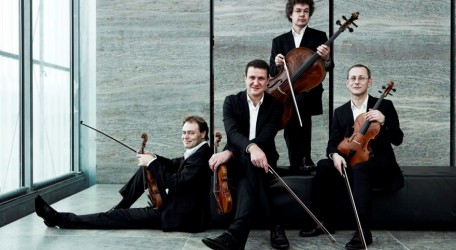 Beethoven's string quartets will be performed by the Leipzig Quartet on the 10th and the 12th of December at Teatru Manoel. Founded in 1988, the Leipzig String Quartet is now widely acclaimed as one of the most exciting string quartets on the international chamber music scene. The "Neue Züricher Zeitung" has described the ensemble as "one of the towering and most versatile quartets of our time."
On Tuesday 10th December, the performance of three quartets namely op. 18/3, op. 59/2 and op. 132. The Leipzig String Quartet's second performance on Thursday 12th December will feature op. 18/1, op. 95 and op. 130. Each concert starts at 8.00pm but each concert will be preceded by a very interesting pre-concert talk that starts at 7.15pm.
"When Beethoven composed the Cavatina of op 130 he was so mentally isolated because of his illness and his deafness that the music is too otherworldly to be true," explains Kenneth Zammit Tabona, Deputy Chairman at Teatru Manoel. "The deep and unrelieved strain of melancholia does not in any way detract from the intrinsic beauty of the piece. It, in itself, is a sublime work of art that can stand alone even out of its context. This movement and of course the Grosse Fugue which though not in the usual format is classified as the sixteenth quartet are supreme examples of the string quartet genre which had been formalised not too long before by Joseph Haydn who even today is considered to be the father of the String Quartet."
In 1977, two Voyager space probes were launched into the greater universe, and with each of them was a "Golden Record", a message to aliens to prove that we're intelligent beings. It includes everything from chemical formulas to Ancient Sumerian greetings to a message from Jimmy Carter. It also includes 90 minutes of music and of course, there's Beethoven. In fact the final track on this "Earth's Greatest Hits" is from Beethoven's String Quartet Opus 130, the "Cavatina" movement. Such is the beauty of this piece that Beethoven said caused tears to well up in his eyes just thinking about it.
Directly linked to this glorious movement is another from the Razoumovsky set of quartets op 59 no 2; classified as the eighth quartet in the Beethoven cycle; particularly the Molto Adagio with specific written instructions from Beethoven 'is tratta di questo pezzo con molto di sentimento' which according to Czerny was because Beethoven was inspired by a poetic contemplation of a night sky with its stars and planets.
Founded in 1988, the Leipzig String Quartet is now widely acclaimed as one of the most exciting string quartets on the international chamber music scene. Also to be performed is the no 11 op 95 entitled Serioso by Beethoven, the intimacy of which requires intense and concentrated attention by both players and listeners.
"The string quartet as a genre is a very special one. It is as if quartets which have the same layout as symphonies reflect in miniature the Olympian utterances of the latter genre in an eloquent and intimate way. Two of the opus 18 set nos 1 and 3 demonstrating Beethoven's happier and more genial early period will also be performed. Since Haydn more or less formalised them, string quartets have been regarded as the apex of musical poetry and this is due in no small way to the hauntingly magical output  of Ludwig van Beethoven with his 16 quartets; one more inimitably beautiful than the last; a chef d'ouevre not surpassed even by the amazing Shostakovitch Cycle in the last century," concluded Mr Zammit Tabona.