Above: Bumpy ride
Animations by Annemarie Mayo and Polina Starostenko
 
The Kite Project is a multi-disciplinary venture which will culminate in the release of a 4 track EP and an animated music video. Set to become Malta's first cartoon band, the main story told throughout the EP as well as through the music video is that of a Maltese girl, struggling with her art. The Kite symbolises the artists' varied journey. There are days when the Kite is teasing, and hard to reach… others where the Kite takes over and control is lost. Finally, after a bumpy ride, control is regained and the artist, as well as her fellow band members, makes it to their destination.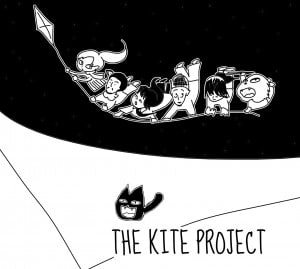 The four tracks on the EP, which were recorded by Luke Grech and Kenny d'Ugo at Jubox Recording House, were selected by our audience during an interactive gig, held in August 2013. Weekly cartoons were released during the animation process throughout the duration of the project.  In November 2013, three of the band members attended the EP's mastering session, which was carried out by Geoff Pesche  at Abbey Road Studios.
Martin Bonnici from Shadeena acted as the animated music video's supervisor and editor. All animations were drawn by Annemarie Mayo and Polina Starostenko.
The Kite Project band's real-life counterparts are Annemarie Mayo, Luke Grech, Joseph Axiak, Cheyenne Belle Xuereb, Janice Ellul and Lesnich Vasallo. The band's self-titled EP and animated video will be launched at Rookies on the 26th of April, 9pm onwards. Entrance is free and copies of the EP will be available for sale on the night. You may also pre-order the EP via www.thekiteproject.bandcamp.com. Preordering the CD entitles you to a free digital download of the album.
The venture is supported by the Malta Arts Fund.
Event:  http://www.facebook.com/events/261362207368831/
Album preview: http://youtu.be/5huXhJtHmLQ