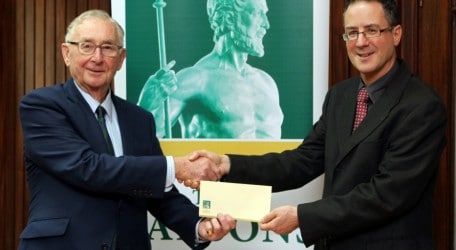 Pictured above: The Farsons Foundation Chairman Mr Bryan A. Gera presenting the sponsorship to IĠM Chairman Mr Malcolm J. Naudi
Traditional press photos still capture the energy and convey emotions of a whirlwind world in today's global reality of 24-hour television news, always-on internet and satellite communication.
An ardent supporter of the press photography category of the Malta Journalism Awards, The Farsons Foundation is sponsoring the Press Photography category for the 13th consecutive year. This award honours the efforts of photo journalists in Malta, who enhance newspaper and magazine stories each day with their excellent work and the standard of their photos is improving year after year.
"In recent years, Maltese press photographers have gone beyond delivering high standards by injecting photographic creativity in their press photography to deliver a more poignant and effective message. What has been achieved in Malta is also being recognised internationally. This is why The Farsons Foundation continues to support this particular category of the Malta Journalism Awards, professionally organised by the IĠM," said Mr Bryan A. Gera, Chairman of The Farsons Foundation.
Mr Malcolm J. Naudi, Chairman of the Institute of Maltese Journalists (IĠM) explained: "In the Press Photography category judges seek a strong balance of aesthetics combined with powerful journalistic content that reflects the news stories on events, personalities and social issues. It is our responsibility to encourage press photographers so that the quality of photojournalism constantly achieves higher standards."
The Malta Journalism Awards consist of 16 categories covering print, broadcast and e-journalism. The awards ceremony will be held at The Palace Hotel, Sliema, in May 2014.