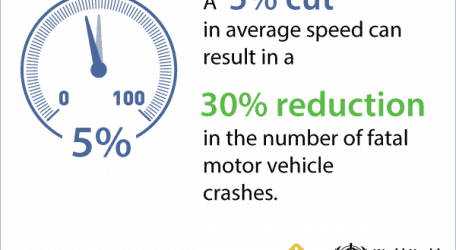 The Tara Malou Licari Fund, in collaboration with the Ministry of Health Malta will host a workshop in Malta to mark the 4th United Nations Global Road Safety Week on 11 May 2017. The event is also supported by private sponsors including Motors Inc,; Malta Insurance Assocaition and Corinthia San Gorg Hotel.
Stakeholders from WHO Regional Office for Europe, government, nongovernmental organizations, foundations, civil society and youth are invited to a one day workshop focusing on road safety and managing speed in Malta. They will join the global effort along with stakeholders from more than 100 countries worldwide to commemorate the Global Road Safety Week during 8-14 May. The Week will focus on raising awareness about the dangers of speed and the benefits of slowing down.
Road safety is a priority on the 2030 Agenda for Sustainable Development and Sustainable Development Goal 3.6 has a target to reduce road traffic injury deaths by 50% by 2020, when compared to 2010. The overall goal of Global Road Safety Week is to contribute to saving lives on the world's roads, thereby furthering progress towards Sustainable Development Goal targets 3.6 and 11.2.
Road crashes are responsible for almost 85 000 premature deaths annually in the WHO European Region, and are the leading killer of young people aged 5–29 years. Thirty percent of road crash deaths are among pedestrians and cyclists, some of the most vulnerable on the roads. Progress is being made in Europe and there was a 8.1% fall in road crash deaths in the Region between 2010 and 2013. Whereas the majority of the countries in the Region report falling death rates, Malta is one of eight countries reporting an increase. Urgent action is needed in many countries in the Region if the SDG target is to be met.
Excessive speed is among the major risk factors for road traffic deaths and injuries and raising awareness about the dangers of speeding has been selected as a priority for the week to help attain the SDG on road safety. The speed of a vehicle is a very important risk factor for both the occurrence of a crash and the gravity of its consequences. A 5% average reduction in speed can reduce fatal crashes by 30%. This is why urban speed limits should be set at 50 km/h and reduced to 30 km/h where motorized traffic mixes with pedestrians and cyclists. Intersectoral action is needed at a national and municipal level to implement cost-effective measures using a systems approach to ensure that speed is controlled appropriately and greater road safety attained.
The one day workshop in Malta will bring together stakeholders from across government and civil society. Of importance it will also engage with youth, a group at high risk from road crashes. Debates will be held in colleges simulating an interministerial committee on road safety to prioritize actions. The workshop will consist of a series of key note presentations, videos, panel discussions involving officials and youth to debate recommendations for future action.
The objectives of the workshop are to:
• raise awareness about the dire consequences of speed and commemorate lives lost
• advocate for the benefits of reducing speed;
• promote evidence-based solutions to manage speed (based on the Safe System approach) to policy- and other decision-makers; and
• gather commitments from policy and other decision-makers on promoted solutions
The workshop will conclude with endorsement of a statement calling for key actions to take place and asking the key stakeholders present to report back on progress in a years time.
Contact persons for the Workshop are:
Dr Charmaine Gauci Tel: +356 25953300/2    Email: [email protected]
Dr Lucianne Licari Tel: +45 23321867; Email [email protected]