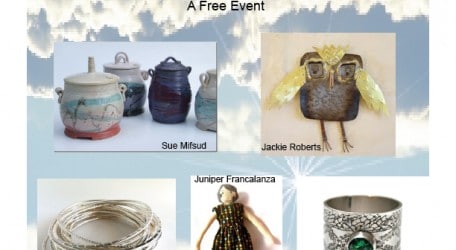 "Meet Your Maker" is taking place on Saturday 13 October (opera weekend) from 2pm – 5pm at  Prickly Pear – a shop in the back streets of Victoria, Gozo which opened in April.  The shops focus is on contemporary design, and it is home to the work of twelve local crafts designer/makers and also to some makers from overseas (and some further more mass produced items which are particularly strong on design).
The idea behind the event is to encourage people to commission work from some of the featured makers.  With Christmas coming up – we wish to remind people that rather than scouring the shops in the hope of finding a suitable gift – it is possible to discuss your ideas with an artist and then have something made especially for you.
The featured makers are:
Nancye Church – Silver jewellery
Juniper Francalanza – Textiles
Sue Mifsud – Ceramics
Jackie Roberts – Metal work
Rachel Robinson – Silver jewellery  (and owner of Prickly Pear).
The event is free – and gives the opportunity to see examples of the artists work and talk through ideas.
Prickly Pear can be found at 96 Triq San Gorg (in the alley to the right hand side of St George's Basilica) and at www.pricklypeargozo.com
Or find them on Facebook at https://www.facebook.com/events/353128658104227/