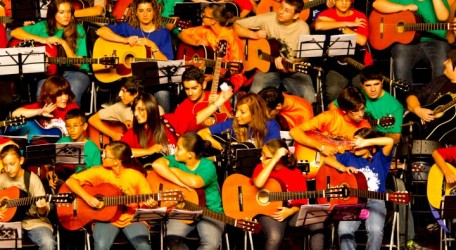 ŻĦN proudly presents the 11th edition of Strummin' in aid of Puttinu Cares
From the sultry voice of Frank Sinatra to the rocking beats of The Rolling Stones amongst others, this year's edition of Strummin' brings you a Tribute to the Greats who have shaped music as we know it.  Now in its 11th edition, Strummin', Żgħażagħ Ħaddiema Nsara's biggest project ensures an unforgettable night filled with sounds from a guitar ensemble of around 60 guitarists polished to perfection to emulate some of the greatest contributors to music after months of preparation.
As in previous years, all proceeds gathered will go towards  a worthy cause. Last year Strummin' collected €2,400 for the Malta Community Chest Fund. This year's proceeds will go towards supporting suffering children and their families through Puttinu Cares. This will all be done with Strummin"s new image designed by Isabel Micallef, who won the logo competition from among a group of talented artists. The logo chosen incorporates the essence by which sound is coaxed out of a guitar as well as Strummin"s own identity.
Please visit www.strumminartists.com featuring news from the local music scene as well as from our own talented guitarists' careers on stage.
We are counting down the days for Strummin' Tribute to the Greats to be held on the 14 and 15 September at Sir Temi Zammit Hall, University of Malta at 8pm. Don't miss out! Book your tickets from www.ooii.com.mt or call to reserve your tickets from 79 244 418. The event is being supported by BOV, Nestlé, Corinthia Palace Attard, Studio 7 and The Sound System.