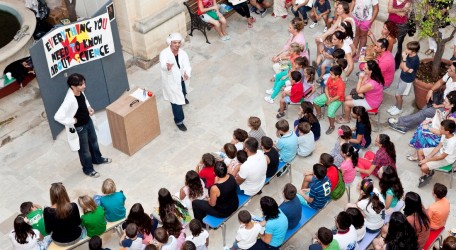 Expect more from Science in the City, European Researchers' Night on Friday 26th September from 6.00 p.m. till midnight in Valletta. This is the message of the organizers for the 3rd edition of what is fast becoming Malta's science and art festival. The display of state of the art research on Avionics, Space Science, the Maltese Genome, Diabetes and Brain Science will make it a memorable night which is instructive, interactive and fun for the whole family.
A thrilling program of activities is being planned for this edition. They display the scope of exciting research being conducted at the University of Malta and that may serve to contribute to the health and wealth of Malta in the future. This year's edition is aiming to be the best and most stirring one so far. Around 35 activities will be concentrated along Republic Street, running from the revamped and enchanting entrance to Valletta down to St George's Square (Palace Square)
The event "Science in the City, European Researchers' Night" is organized by the University of Malta and the Malta Chamber of Scientists together with a larger consortium of consultants, beneficiaries and participants.  It is supported by the Marie Skłodowska-Curie Actions of the Horizon 2020 Program of the EU, the Research Trust of the University of Malta and a number of corporate sponsors.
The Science in the City, European Researchers' Night website www.scienceinthecity.org.mt will be shortly updated with a full programme.   The event may also be followed on Facebook for regular updates: www.facebook.com/ScienceInTheCityMalta 
Photocaption: Some of the activities from last year's Science in the City in Valletta.
Ends