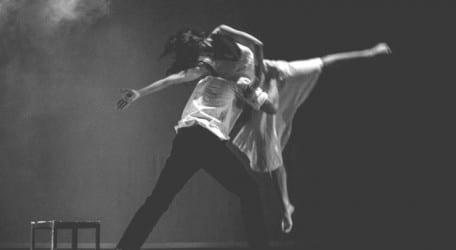 Science in the City will be putting on a spotlight on the brain and contemporary dance at this year's festival being held on Friday 26th September in Valletta. Moveo Dance Company will perform Mind Set at St James Cavalier while Laws of Motion will be performed by the duo Doug Comley and Sandra Mifsud at St George's Square, Valletta.
An interdisciplinary, collaborative project between the Centre for Biomedical Cybernetics, Department of Systems and Control Engineering and Moveo Dance Company focuses on building up a new viewer-centred performance. Mind Set is set on translating brain activity into actions without acting physically, through the use of Brain Computer Interface (BCI) Technology. Aided by Dr Owen Falzon and his team, from the Department of Engineering of the University of Malta, the act marries this emerging technology to create an innovative performance where the audience's brain activity and the dancers' movement communicate to create a unique performance.
Choreographed by Dorian Mallia and Diane Portelli, the project is supported by the Malta Arts Fund. The Friday performances are free of charge and will be held at 6.00pm and repeated at 7.30pm, 9.00pm and 10.30pm and runs for 1hr.
Supplimentary performances will be held on Saturday 27th at 8.00pm and on Sunday 28th September at 5.00pm at St James Cavalier.  Tickets at €15 (concessions at €12) can be booked from St James Cavalier or online: https://ticketengine.sjcav.org
Laws of Motion
Highlighting Laws of Motion, dancers Doug Comley and Sandra Mifsud will present an engaging dance duet. From a sitting slumber, two bodies begin to collide, spin and fall to the laws of motion and gravity. Accompanied by a documentary, they take the audience into an entertaining physical theatre performance.
In collaboration with the University of Malta and Lufthansa Technik Malta, Laws of Motion will be performed at St George's Square in Valletta at 6:30pm, 7:15pm, 7:45pm, and 8:30pm.
The Science in the City festival—European Researchers' Night is supported by the EU's Marie Skłodowska-Curie Action of the Horizon 2020 (H2020) Programme. The event is organised by the University of Malta, Malta Chamber of Scientists and the Research Trust of the University of Malta (RIDT), in partnership with Karl Borg Events, Studio 7, Valletta 2018 Foundation, MEUSAC, Valletta Local Council, Malta Council for Science and Technology, Malta College for Arts, Science and Technology, Arts Council Malta, PBS, Notte Bianca, St James Cavalier, Lufthansa Technik Malta, General Soft Drinks with Coca Cola, Ta' Mena wines, and British Council.
The full programme and venue details can be downloaded from www.scienceinthecity.org.mt