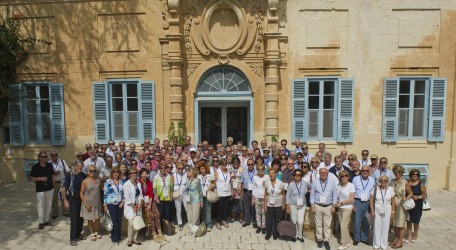 Rotary Club Malta, now in its 47th year as a service club in Malta, was the protagonist in organising the Rotary Inter-Country Committee meeting in Malta for Rotarians from Switzerland, Italy, Liechtenstein and Malta, held from 25-28 September at the Corinthia Hotel, St George's Bay.
The programme prepared for this cultural and fellowship event drew a gathering of over a hundred Rotarians. Local Rotarian hospitality was at its best as the whole group was entertained to 12 individual dinner parties at the homes of club members and was the highlight of the weekend.
Apart from visiting a number of Malta's historical sites, conference guests were addressed on the Saturday morning by eminent speakers from Italy and Malta. Prof. Dott. Emilio Cottini, author of 182 publications and Dean of the Faculty of Medicine at the University of Catania, as well as a long-standing Rotarian, delved into important issues related to reciprocal understanding between nations.
Dr Karsten Xuereb, executive director for the Valletta 2018 Foundation, who is responsible for preparing Valletta as the European Capital of Culture 2018, presented a brilliant run-up to this important event in Malta's calendar, themed Valletta 2018, transforming a dream into reality.
Following the conference, the contingent sailed to Grand Harbour before berthing at the Birgu marina followed by lunch at the Maritime Museum. A surprise 'historical enactment' awaited them in the main square of Birgu before their return to the hotel.
The InterContinental Hotel hosted all 153 Rotarians to a sumptuous farewell gala dinner in a splendid garden setting where they were entertained by musicians brought over from Sicily for the occasion.
Next year's ICC meeting will be held in Liechtenstein.