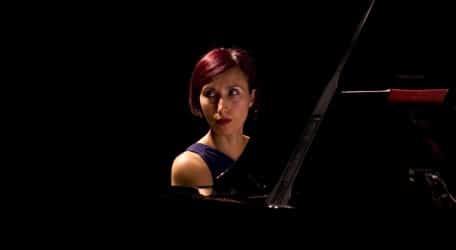 VALLETTA INTERNATIONAL PIANO FESTIVAL proudly presents Maltese pianist Tricia Dawn Williams in a recital of contemporary works by seven Maltese composers: Pawlu Grech, Steven Psaila, Reuben Pace, Paul Portelli, Karl Fiorini, Alex Vella Gregory and Ruben Zahra. This will be held at St James Cavalier – Center for Creativity on Tuesday 4 February 2014 at 8pm.  Seven different piano styles that merge together like a mosaic and therefore PIANO MOSAIC.
Williams who is renowned for giving the audience exciting and challenging performances will open the program with Rhapsoidίa by Pawlu Grech.  In this work, the composer embarks on a musical search for the roots of life, the ultimate source of all that is.  Rhythms of nature are evoked by Grech's use of two Greek folk-tunes based on two pentatonic scales.  This work is pervaded by mysterious whirling sounds and infinite silences from which more sounds emerge.  Keeping to the Mediterranean, Waves by Steven Psaila portrays the sunset on the beautiful beaches of Malta. However, one must not forget, though the sea may seem calm, deep below something perilous may be brewing.  We also come across Psaila's sense of humour in another piece called Jogging.  This is a comical short composition, very demanding technically.  The music in itself is very modern with little regard to melody specifically to bring out the suffering that must be endured both by the jogger and the pianist.
In his piece, Asteriod Field, composer Reuben Pace tells us that the idea and all the music came to him in a dream.  He woke up in the middle of the night to sketch it.  Asteriod Field is in three parts describing an imaginary journey towards, through and away from an asteriod field.  From space we move back to earth, more closer, to Paris where composer Karl Fiorini, during a visit to Lyon in 2007, from the top of Fourviere he could see the rivers Rhone and Saone nearly touching each other.  The impression was of a man and woman who are trying desperately to caress each other.  Les Ames Effleurées meaning souls which lightly brush against each other.
Waħdu fis-Solitudni composed by Paul Portelli starts off by a serene note which is followed by a calm theme that is heard three times over the whole work and is meant to convey the feeling of loneliness.  Then the music takes the listener through different sections which are embedded with rhythmic and harmonic colorations that reflect the changes in mood, and the exploration of different thoughts and ideas that we all experience in our everyday life.  Although this piece is written in contemporary classical spirit, it has been greatly influenced by the jazz idiom.  Alex Vella Gregory wrote a set of Six Notturni (nocturnes).  During this recital we will hear the first two. Lejl bla Tmiem – a Night without End and Il-Port il-Kbir bil-Lejl – The Grand Harbour at Night. This set of six notturni explores other aspects of night-time, and moves away from the picturesque romantic notions associated with it. Mediterranean nights are as temperamental as our days. Some of the Notturni are dark and gloomy, others turbulent, whilst others are even boisterous.
The program concludes with Ruben Zahra's Pounding.  The principal material of this piece is a low-register percussive cluster which 'pounds' its way through the three sections of this composition.  The music develops in leaps and bounds surprising the listener with dynamic contrasts and disparity between melodic and rhythmic fragments.
Tickets at €10 can be purchased online http://www.sjcav.org/page.asp?n=Eventdetails&i=5289&z=4 or call on +35621223200.