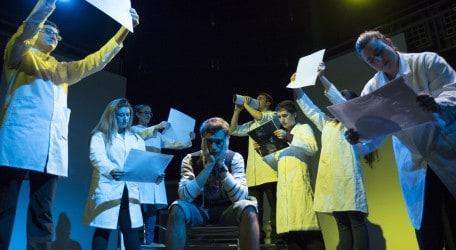 Studio 18, a creative organisation for youth, has embarked on an 18-month creative residency at Sliema's Teatru Salesjan.
Now well into its fourth year, Studio 18 has enjoyed a successful run of commissions, collaborative projects and funding grants, including the President's Award for Creativity, Kreattiv and a Valletta 2018 education project, alongside projects with Spazju Kreattiv, Teatru Astra, Teatru Aurora, and ultimately ZiguZajg. This new chapter for Studio 18 comes at a time when the organisation is preparing for the run up to Valletta 2018 and Teatru Salesjan's profile has garnered a strong reputation. The residency is a part of Teatru Salesjan 's cultural partnership agreement with Arts Council Malta, which came to fruition in 2016.
As a resident collaborator, Studio 18 aims to develop theatre projects and host workshops, working hand in hand with the theatre to nourish the artistic vision implemented by TS and to contribute towards the diverse culture and community which has been established for over 100 years.
Both Teatru Salesjan and Studio 18 share a vision which fosters cultural and creative achievement, whilst holding to heart the well-being of the community; the residency strengthens Teatru Salesjan's commitment to young people while providing this young company with the space and resources to play in the heart of one of Malta's prime hubs for leisure and entertainment. As both entities continue to enjoy high acclaim, this residency places both TS and Studio 18 in a unique position, enabling the team to empower its artists and community, as well as to develop quality work.