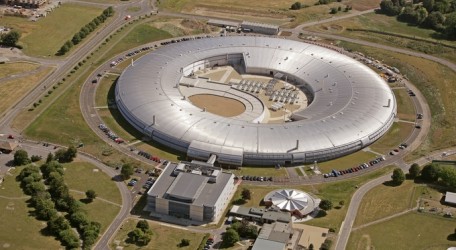 What are the tiniest bits of matter made up of? How do proteins work together to keep us alive? Particle accelerators are state-of-the art machines that allow scientists to answer these questions.
CERN computer scientist Gianluca Valentino, currently a Ph.D. student in the Faculty of ICT, University of Malta, and Rosalin Bonetta, a Ph.D. student in physiology and biochemistry at the University of Malta, will take the audience through a fascinating tour of cutting edge engineering, physics and biochemistry on Friday 27th September as part of Science in the City.  The public will get a first-hand account of their experiences working on two of the most advanced machines in the world — the Large Hadron Collider (LHC) at CERN and the Diamond synchrotron light source near Oxford.
Famous for the discovery of a particle consistent with the Higgs boson in 2012, the LHC accelerates protons (parts of atoms) to almost the speed of light before colliding them. The beam energy is equivalent to 80 kg of TNT explosive. The collimation or 'beam cleaning' system protects the LHC from the potentially destructive beams. Gianluca has developed algorithms that quickly and automatically determine the positions of these 'beam cleaners'. The algorithms saved hundreds of work hours, helping the LHC to produce more proton collisions in the 2011–2013 period.
The Diamond Light Source accelerates electrons. It generates a beam ideal for revealing the atomic details of tiny samples of matter, be they proteins or viruses. It is only place in Europe that pictured the AIDS, Hepatitis and some types of flu viruses at the atomic level. Studying disease in this way opens new ways to develop therapeutic treatments and vaccines. Rosalin is carrying out studies at the Diamond Light Source to study the structure of a protein involved in several deadly diseases.
The talk is part of the Malta Café Scientifique series supported by the Malta Chamber of Scientists. It starts at 7.30pm at La Vallette Band Club (1st floor), Valletta. Admission is free of charge and goody bags with a scientific twist will be distributed to participants.
The "Researchers' Night – Science in the City" festival is organised by a consortium of national organisations that is led by the University of Malta Research Trust, and the Malta Chamber of Scientists. The partners are MCST, Where's Everybody Ltd, Valletta Local Council, MEUSAC, the Public Broadcasting Services Ltd, MCAST, iCreatemotion, the European Commission Representation in Malta, the Malta Council for Culture and the Arts, Notte Bianca, Valletta 2018 Foundation, Malta Chamber of Pharmacists, King's Own Philharmonic Society and St James Cavalier. The project is supported by the Parliamentary Secretariat for Research, Innovation, Youth and Sports, Vodafone and Microsoft Innovation Centre.
The festival is co-funded by a competitive award from the EU's FP7 Programme and the Malta Arts Fund.