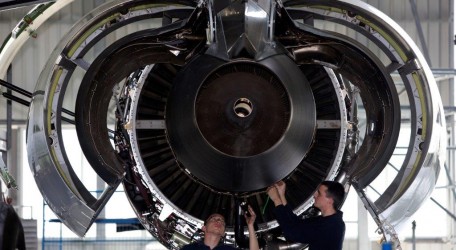 St George's Square will host parts of an aircraft and an artistic maze at this year's Science in the City. Lufthansa Technik Malta will be displaying a model aircraft and real-sized sections while Logix Creative and DAAA Haus will be setting up a large labyrinth where people can explore various scientific concepts with an artistic twist, thus a reimagined Square.
Aircraft enthusiasts will have a great experience. Lufthansa Technik Maltawill have a thruster, shark skin paint sample (a new innovation by Lufthansa, Airbus Operations GmbH, Bremer Werk für Montagesysteme GmbH and Fraunhofer-Institut IPT soon to be painted on tomorrow's planes), live non-destructive testing, a video showing how aircraft fly inside a tail cone, and how air samples are taken.
Visitors have a chance to win a once in a lifetime opportunity:  an Economy Class return flight to Frankfurt and a visit to the Lufthansa Flight Simulator station for two persons. The flights are being offered complimentary by Lufthansa German Airlines and the Flight Simulator visit by Lufthansa Technik Malta.
AMaze2 will house a host of different scientific themes presented with an artistic flair. There are several exhibits including one on the particle accelerator at CERN, X-ray Crystallography, which is the way to make 3D models of molecules, and a tech-biogarden installation to name a few. The large labyrinth installation has been designed by Logix Creative and Daaa Haus for Science in the City, Valletta 2018 Foundation and Notte Bianca for visitors of all ages.
The CERN Large Hadron Collider (LHC) is used to study the fundamental constituents of matter. Visitors will get a first-hand account of how a particle accelerator works. Computer scientist Gianluca Valentino heads the team behind this installation. The project involves several interactive exhibits on how the Universe works and matter is kept together.
Constructed by scientists together with a number of artists and ICT experts, the art installation produced by the art group IZAXA is in collaboration with Rosalin Bonetta, a biochemistry researcher at the University of Malta. The installation invites participants to explore the inner workings of X-Ray Crystallography on the 100th anniversary since its beginning. X-Ray Crystallography is a technique vital to understand how proteins in our body look, viruses work and to make new drugs.
Biopilot 1.0 [Sound Modulation upon the Plant Model] by artist Mirjana Batinić is a cross-disciplinary tech-biogarden installation. Set as a computer controlled sound platform, this work is open for everyone to play with the devices and make their own sounds with living systems. The work is a live, pulsing, art-sci organism.
continues on page 2/…
18.09.2014
Planes and mazes will be coming to St George's Square/page 2
The Science in the City festival—European Researchers' Night is supported by the EU's Marie Skłodowska-Curie Action of the Horizon 2020 (H2020) Programme. The event is organised by the University of Malta, Malta Chamber of Scientists and the Research Trust of the University of Malta (RIDT), in partnership with Karl Borg Events, Studio 7, Valletta 2018 Foundation, MEUSAC, Valletta Local Council, Malta Council for Science and Technology, Malta College for Arts, Science and Technology, Arts Council Malta, PBS, Notte Bianca, St James Cavalier, Lufthansa Technik Malta, General Soft Drinks with Coca Cola, Ta' Mena wines, Italian Cultural Institute, and British Council.
The full programme and venue details can be downloaded from www.scienceinthecity.org.mt