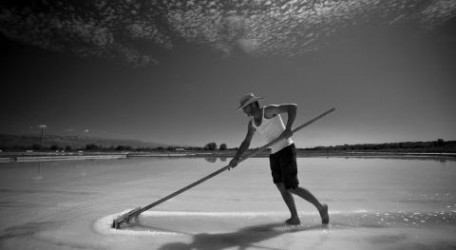 Pictured above: The winning photo Salt Collector – Siniša Uštulica
The winners of the photo competition "Surprising Croatia," organised by the European Commission's Directorate General for Enlargement were recently announced at an award ceremony in Brussels. The aim of the competition was to showcase the EU's 28th Member State through images depicting its rich diversity.
The three category-winners are:
Siniša Uštulica, Salt collector – for the category "Everyday Life"
Mirna Balkić, Life is a circus – for the category "Iconic Moments"
Ivana Miletić, Zig-Zag – for the category "Surprising Croatia".
The photo competition took place in the context of Croatia's recent accession to the EU on 1 July 2013. It enabled Croatian participants to share impressions of their country with citizens from the other EU Member States.
A total of 482 photos were submitted in three different categories. 24 photos, 8 for each category, were selected by a jury consisting of professional photographers as well as representatives of the European Commission and the Permanent Representation of Croatia to the EU. The finalist photos were published online, where visitors to the campaign website www.croatia-in-the-eu.eu voted for their favourites in order to identify the winners.
The finalist photos depict a country with stunning natural beauty, rich cultural heritage and traditions, and vibrant art scene. The images will also be included in a travelling exhibition which will be displayed in EU Member States through the European Commission Representations and Europe Direct information points.
To see the 24 finalist photos, please visit: http://croatia-in-the-eu.eu/photo-competition/vote.