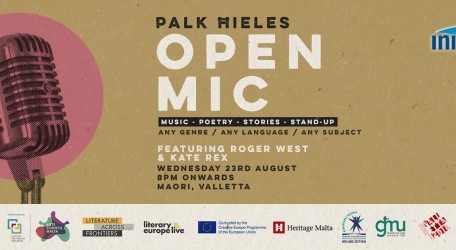 On Wednesday, 23rd August, Inizjamed will be organising the sixteenth Open Mic at Maori, just a throw of stone away from Fort St Elmo, the location of The Mediterranean Literature Festival itself which will start the day after with the presence of twelve authors. In front of the Mediterranean sea itself, where the breakwater has already softened the wrath of the waves, you are invited to read a poem or a story, a mixture of both, perform a stand-up sketch, play or sing something original. Like the Festival itself, where the official language will be translation, at the Open Mic every language or sound is welcome.

The special guests for the night will be two – Roger West and Kate Rex, two poets themselves, and also translators who worked behind the scenes for various editions of the Festival. Other Festival authors will also be present.
This open mic is being organised as part of the events preceding the Malta Mediterranean Literature Festival. The XIIth edition of the Malta Mediterranean Literature Festival organized by Inizjamed will be held on Thursday 24th, Friday 25th and Saturday 26th August 2017, at Fort St Elmo, in Valletta, at 8.00pm with the participation of John Aquilina (UK/Malta), Asja Bakić (Bosnia Herzegovina), Mourid Barghouti(Palestine), Lilia Ben Romdhane (Tunisia), Mark Camilleri (Malta), Immanuel Mifsud (Malta), Jean Portante (Luxembourg), Alfred Sant (Malta), Zoë Skoulding (Wales), Ma Thida (Myanmar), Arvis Viguls (Latvia), and Gjoko Zdraveski (Republic of Macedonia).
As always, entrance and participation are free. For more information, contact us at [email protected]
The event on Facebook can be found here: https://goo.gl/5CzDNT.