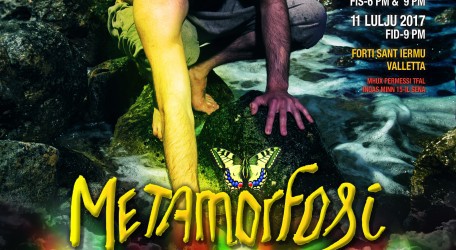 Unifaun Theatre Productions is presenting a Maltese language production of  IL-METAMORFOSI by Ovidio, in an adapatation by Adrian Buckle and Trevor Zahra.
The play is being preformed on 10 and 11 July at 9pm at Fort St Elmo, Valletta under the direction of Stephen Oliver and Dominic Said.
Taking part will be Jamie Cardona, Stephen Mintoff, Karl Schembri, Clayton Mallia, Ryan Cutajar, Clint Chircop, Magda van Kuilenburg, Sarah Amato, Lydia Portelli, Julia Ann Camilleri and Michela Farrugia.

This is a collection of stories where love never wins. This adaptation brings to the stage Ovidio's masterpeice with stories such as Daphne and Apollo, Fatonte, Tereus and Procne, Arachne, the Wedding of Perseus, Narcissus, Hermaphroditus and many others.  This promises to be a unique production for Maltese audiences.