New book to be launched at Bir Mula Heritage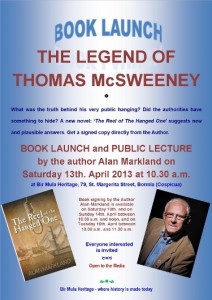 If you love a good mystery, then be sure to head over to Bir Mula Heritage tomorrow where a new book about the public hanging of Thomas McSweeney will be launched by author Alan Markland.
The Reel of the Hanged One is a thrilling novel written by a seafaring man about an injustice done long ago at sea. Now retired, author Alan Markland sailed the seven seas to come up with this stirring tale about one of the last men to be hung at the yardarm of his ship.
In 1930s Malta, the son of a naval officer discovers the grave of a Royal Marine private. As a boy, Rob grew up amid rumours regarding the execution of his relative and vows to find the facts. Years later, he receives an inheritance from a long-deceased grandmother. Within her meagre possessions are some shocking clues about the truth behind the hanging. As Rob and his wife Jane uncover over a century of conspiracy, cover up and government deceit, he realizes that dark forces will do anything to stop them from exposing the truth.
The Reel of the Hanged One will be launched tomorrow at 10.30am, followed by a book signing.