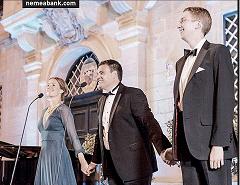 An elegant evening, permeated by classical finesse and timeless music, was savoured by 100 distinguished guests to tenor Cliff Zammit Stevens' sixth Annual Summer Concert, supported by Nemea Bank.
A chilled glass of the finest prosecco welcomed the guests to the noble Archbishop Square, Mdina, for the recital, which took place on August 28th and featured accompanying performances by British pianist IanTindale and Swedish mezzo soprano Annie Fredriksson.
Zammit Stevens commenced proceedings with a glorious rendition of Ravel's Cinq Mélodies Grecques, a fine display of diction and clarity. Along with his accompanying performers, Zammit Stevens reached soaring musical heights, enhancing the night air with a rich ambience, performing a highly varied repertoire o f masterpieces by the likes of Verdi, Puccini and Tchaikovsky.
He said: "It's always a pleasure to perform back home and being able to sing in the beautiful Archbishop Square in Mdina is the cherry on the cake! Thank you to everyone who made my 6th annual summer concert another huge success, my fantastic colleagues Annie and Ian and all the team at Nemea bank for their constant support."
The concert served as a thorough, titillating vindication of the credentials Zammit Stevens and his guests possess as classical performers. Zammit Stevens himself is a graduate of the world-renowned Royal College of Music, situated in Kensington, London. He has also graced some of London's most hallowed venues with his talents, namely Wigmore Hall and the Royal Albert Hall.
Nemea Bank plc, which recently launched its brand-new portal for its clients, takes pleasure in supporting such talent. The bank intrinsically believes that classical pieces performed by the younger generation can serve to inspire individuals and organisations to greatness.
For more information on Nemea's products and services, visit www.nemeabank.com.