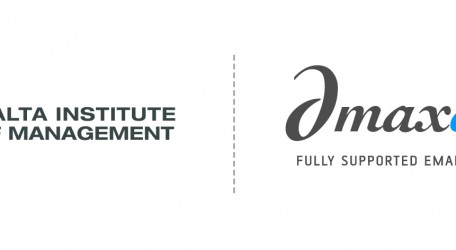 Dmaxepaper.com sponsors MIM's Golden Anniversary gala dinner
Dmaxepaper.com, the Malta-based dedicated business email intelligence solution experts, has recently sponsored the Gala Dinner organised by the Malta Institute of Management (MIM) to commemorate the institute's 50th anniversary.
The gala dinner held at Palazzo Parisio in Naxxar was attended by over 100 MIM members and a host of other distinguished guests. A special appearance at this event was Prime Minister Joseph Muscat, who lauded the contribution of MIM in management education and training programmes.
"Dmaxepaper.com is supportive of all institute's marketing efforts and our backing reflects a continued belief in the need for MIM to uphold its mission of being the forum for the development of new business leaders within our community." said Ray de Bono, Dmaxeapper.com CEO.
"MIM has opted for Dmaxepaper.com for its email marketing intelligence, particularly since this solution is geared towards the professional sector and is technically backed by the Dmax Call Centre staff. I take this opportunity of thanking the Dmaxepaper.com team in Malta and Germany for their steadfast support for MIM initiatives throughout the year," concluded MIM's General Manager, Omar Vella.
The Malta Institute of Management (MIM) launched its 50th anniversary celebration with a series of events, namely the publication of a commemorative book 'Born to lead'.
MIM was the brainchild of a small group of young Maltese business executives at the time of Malta's Independence in 1964, when the nation was making the big leap from an economy sustained by activities generated by the British services, to a new era of industrialisation.