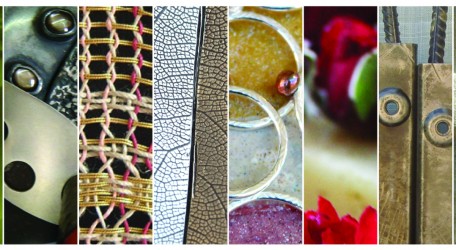 A group of designer/makers have joined together to give customers the opportunity to take a glimpse behind the scenes with a series of 'open studio' Meet the Makers events from Friday 6th to Sunday 8th December.  Buy locally made designer craft direct from the makers at five venues in Malta and Gozo. Why not do your Christmas gift shopping early and in a relaxing, enjoyable way?  We make shopping a pleasure and guarantee quality, style and originality.  Meet some of the people behind MAKERS MARK and see how our work is made – with skill and passion!  We look forward to meeting you and welcoming you to our studios and workshops.
You may be offered a drink while you browse and chat with no obligation to make a purchase; but you are unlikely to resist the original work on offer. Choose from wearable textiles, cushion covers and silk scarves; stone sculpture from recycled Maltese limestone; silver designer jewellery with precious and semi- precious stones, in patterned silver, or with copper and other materials; unusual metal art for the home and to wear; or ethically produced beauty products designed for luxurious pampering.
The event is organised by the team behind MAKERS MARK a charitable foundation set up this year by a group of like-minded professionals who are making their mark on the local craft scene.  MAKERS MARK aims to showcase excellence in contemporary craft at home and abroad; to promote the sale and commissioning of original, locally-made craft; and to work with others to raise awareness and support those working within the craft sector in Malta and Gozo.  MAKERS MARK encourages craft makers to share skills; to collaborate on new designs, and to promote their skills and products more effectively in the Maltese Islands and overseas.
The nine founder members are established designer/makers with years of experience in their respective fields, both on a national and international level. Several of them have won Maltese awards in design and innovation as well as retail. Others have been granted public art commissions or have been chosen to represent Maltese contemporary art internationally.
Jackie Roberts, a Gozo-based metal artist and one of the MAKERS MARK founders, explained what is behind the initiative:
"We recognised the need to educate the general public, business, creative sectors, and government agencies about craft and to encourage them to associate it with desirable, contemporary objects made with practiced skill to high standards.  There is some excellent work being designed and made here but potential customers, especially visitors, find it hard to locate with so few established retail outlets and a lack of national promotion and support for contemporary craft.  Globally there is a growing recognition of the desirability of craft and the need to shop local, support creative entrepreneurs and to make sure that work is original and good quality.  We aim to encourage this in Malta and Gozo, and to work with partners here and overseas to showcase design and craft skills and to promote craft as an important part of contemporary culture.
We feel there could be alternatives to the street markets and 'artisan craft fairs' on offer. Some of these events have now become so large that it is hard for customers to talk to the makers and even to guarantee what is genuinely hand-crafted locally from the original design stage to the finished product.   Some of the MAKERS MARK founders had been doing 'Meet the Maker' events at our own studios for a few years and it made sense this year to promote them all together leading up to Christmas."
So what can visitors to 'Meet Your Makers' see when they turn up to do their Christmas gift shopping or look for a unique piece of craft for themselves?  We would like visitors to treat the experience almost like a creative discovery trail, visiting each venue and making a day, or two (this is a Public Holiday weekend), out of the experience;  stopping to have lunch, or to take a walk around the neighbourhood or in the surrounding countryside.  All the venues have parking close by or are easily accessible by public transport.  If you can't make it to this event please contact the makers to arrange an appointment to visit another day. 
In Gozo we have three venues: 
Victoria: Prickly Pear in the historic, winding back streets of Victoria (in an alley to the right of St George's Basilica) where jewellery designer Rachel Robinson has her workshop and also sells design craft from numerous local makers.  Prickly Pear was awarded local 'Craft Retailer of the Year 2012'.
96 Triq San Gorg, Victoria.
Open: Friday 10.30-3pm; Saturday 10-1pm & Sunday 10-12pm
Tel: 99264150   e.mail: [email protected]
Xewkija: Jackie Roberts and Nancy Church are at Jackie's workshop and studio gallery at "Casa D'Amore", Triq It-Torri Gorgun, Xewkija (to the right of St. John's Church and spectacular Rotunda then second lane on the left overlooking Ta'Cenc and Mgarr Ix-Xini valley). Unusual metal art – functional, fanciful or wearable & original designer silver jewellery with gemstones, leather and other interesting materials.
Open: Friday 4-7pm; Saturday & Sunday 10am-2pm
Tel:  79562753 e.mail: [email protected]
Gharb: Pat Holtom and Karin Grech. at Pat's 300 year-old traditional farmhouse 7, Bishop Molina Street, Gharb. (Go to the left of the Gharb church, turn immediately right behind the church then first left along Trux Street. Bishop Molina Street is the first big turning on the right. Farmhouse with blue door on the left).  See woven textiles, silk scarves, Gozo wool felt cushions & a unique collection of 'Guards' stone sculpture for your house, garden, desk or handbag hand carved from recycled Maltese limestone.  Stunning scenery around this historic village to San Dimitri Chapel, Ta'Pinu and along the valley to the coast
Open: Friday 3-5pm; Saturday & Sunday 10am-2pm
Tel: 79602233 e.mail: [email protected]
In Malta we have two venues:
Fgura: Nadege Renee shows her award-winning handcrafted silver jewellery from her workshop at "Schön", 215, St. Thomas Street, Fgura (coming from Paola, right turn at the Tip Top roundabout, and drive till third block on left, just in front of the Fgura Pharmacy). Unique limited edition designs just the perfect gift for someone special,  at a central location accessible to many of Malta's archaeological treasures.
Open: Friday-Sunday 10am-6pm
Tel: 99229345   e.mail: [email protected]
Sliema: Charlene Mercieca at the Soap Café has luxurious, hand-made natural beauty products in custom-made packaging for corporate and personal gifts, hampers, secret Santa packages and teacher's gifts at her shop the Soap Café, 46,St.Mary Street Sliema
(Down right from the Imperial Hotel direction towards Manuel Dimech Street.  Soap Café is a few doors down from Max Pastizzeria).  Escape to the quiet back streets of Malta's shopping mecca for relaxed pampering.
Friday 4.30-7.30pm; Saturday & Sunday 10.30am-2pm
Tel: 99883675   e.mail: [email protected]
View some of the work beforehand on our Facebook page: MAKERS MARK Malta.