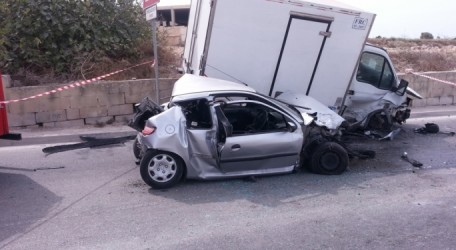 Malta has joined the UN Global Road Safety Week to enhance awareness and get all stakeholders together for action to increase understanding of the dangers of speed and generate action on measures to address speed, thereby saving lives on the roads.
The Tara Malou Licari Fund, in collaboration with the Ministry for Health Malta hosted a workshop in Malta on 11 May 2017. Stakeholders from WHO Regional Office for Europe, government, nongovernmental organizations, foundations, civil society and youths who attended the workshop joined the global effort along with stakeholders from more than 100 countries worldwide to commemorate the Global Road Safety Week during 8-14 May.
The event was also supported by private sponsors including Motors Inc, Malta Insurance Association, Corinthia San Gorg Hotel and Times of Malta.
The workshop aimed to raise awareness about the dire consequences of speed and commemorate lives lost; advocate for the benefits of reducing speed; promote evidence-based solutions to manage speed (based on the Safe System approach) to policy- and other decision-makers; and to gather commitments from policy and other decision-makers on promoted solutions. The workshop concluded with a statement from youths calling for policy makers to take key actions and to report back on progress in a years time.
In the WHO European Region, almost 85 000 people died from road crashes in 2013, of whom 39% were vulnerable road users (pedestrians, bicyclists and motorcyclists). Road traffic injuries are the leading killer in children and young people aged 5–29 years. Around 1.25 million people die every year on the world's roads. Studies indicate that typically 40-50% of drivers go over posted speed limits. Road traffic crashes remain the number one cause of death among young people aged 15–29 years. They are estimated to cost countries from 3-5% of GDP and push many families into poverty.
Road accidents the leading cause of death of youth in Malta
In Malta, road traffic accidents was the leading causes of death amongst adolescents and young adults (15-29 years) in Malta in 2016 accounting for 26% of deaths in that age group. Although overall mortality rates due to road traffic accidents are lower than the EU average, the rates have declined much more steeply in the EU average with an increase in 2013 and 2016 in Malta.
Number of deaths in pedestrians and land transport vehicles except for motorcycles have remained relatively stable since the year 2000. However, 2016 saw a sharp rise in deaths due to motorcycles. According to information published by the National Statistics Office in Malta, the number of reported traffic accidents reached 15,245 in 2016 of which about 12% resulted in an injury. During 2016 there were 1872 transport associated injuries treated at the emergency departments at Mater Dei Hospital and Gozo General Hospital. Casualties due to road traffic accidents reach a peak in the younger age groups.
Her Excellency the President of Malta, Marie-Louise Coleiro Preca opened the seminar, and it was also attended by Mr Chris Fearne, Minister for Health andt Mr Joe Mizzi, Minister for Transport and Infrastructure.
"Road traffic injuries are preventable and a 5% cut in average speed can result in a 30% reduction in the number of fatal road crashes, leading to many lives saved," said Dr Zsuzsanna Jakab, WHO Regional Director for Europe. "Sectors need to act together at the country and municipal level to implement measures to ensure that speed is controlled in order to make roads safer."
By reducing speed and improving safety, their populations benefit from the added advantages of increases in walking and cycling and reductions in air and noise pollution. Such actions, in turn, have positive health benefits on rates of cardiovascular disease, cancer, diabetes and other noncommunicable diseases.
http://www.euro.who.int/en/health-topics/disease-prevention/violence-and-injuries/news/news/2017/05/united-nations-global-road-safety-week-slowdown-to-save-lives