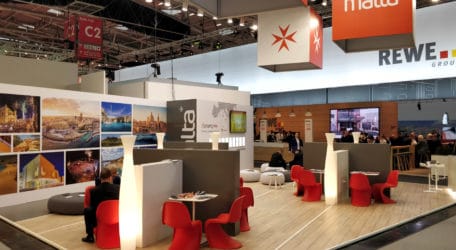 Malta was placed firmly on the European map of notable real estate investment destinations, with an impressive 120sqm country pavilion at Expo Real – Europe's Largest B2B trade fair. The participation was organised and co-ordinated by Property Malta Foundation with the support of property developers, estate agents and other service providers, forming a delegation of no less than thirty-two people.
As part of ExpoReal, the Foundation also organised an informative conference titled Malta Big Ambitions. Opening the conference, the Foundation's Chairman Sandro Chetcuti, gave a detailed overview of Malta's historic and cultural background and explained how the Maltese government has capitalized on the nation's strengths with its pro-business stance welcoming and supporting international investors. He explained that despite Malta's size, its economy is one of the best performing in the EU, enabling Maltese and EU citizens living here to enjoy top quality free healthcare and education services apart from our attractive Mediterranean climate and lifestyle.
The conference was also addressed by Parliamentary Secretary for Planning and the Property Market, Hon. Chris Agius, who quoted several pertinent economic growth statistics and explained opportunities in the real estate sector in more detail. Dr. Gavin Gulia, Executive Chairman of the Malta Tourism Authority, who supported Property Malta Foundation in this international initiative spoke about opportunities in tourism and hospitality, whilst Dr. Carl Grech from Fenech & Fenech Advocates dealt with financial and legal aspects that are of interest to potential investors. The conference was moderated by Pierre Mizzi, publisher of the Malta Property Annual.
The exhibitors participating on the Malta Pavilion included Mercury Towers, The Shoreline and Townsquare, Ben Estates, Re/Max Alliance Malta, ThirtyFour Real Estate and Zanzi Group, as well as Fenech and Fenech Advocates, ISB Technologies and Meinhardt Malta pvt Ltd.
More information about Property Malta can be found at www.propertymalta.org.