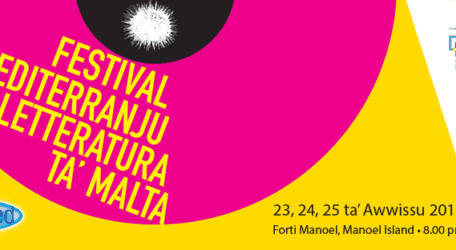 Thursday 23 | Friday 24 | Saturday 25 August 2017 | Fort Manoel, Manoel Island, 8.00pm
Juana Adcock (Mexico/UK) | Clare Azzopardi (Malta) | Massimo Barilla (Italy) | Jean-Rémi Gandon (France) | Arjan Hut (Ljouwert, Netherlands) | Laia López Manrique (Spain) | Caldon Mercieca (Malta) | Teodor Reljić (Malta) | Philip Sciberras (Malta) | Sjón (Iceland) | Ali Thareb (Babel, Iraq)| 
The XIIIth edition of the Malta Mediterranean Literature Festival organized by Inizjamed will be held on Thursday 23th, Friday 24th and Saturday 25th August 2018, at Forti Manoel in Manoel Island, at 8.00pm. The pre-Festival events start on Sunday 19 August. Entrance to all events is free.
Eleven writers from eight countries are reading at the festival, which also features Maltese and foreign poetry films, Maltese musicians, a book stall, a book binding stand by Kotba Calleja, drinks and a selection of food provided by CORE GREEN organic & fairtrade.
The authors participating in this XIIIth edition are Juana Adcock (Mexico/UK),  Massimo Barilla (Italy), Jean-Rémi Gandon (France), Arjan Hut (Ljouwert, Netherlands), Laia López Manrique (Spain), Sjón (Iceland), Ali Thareb (Babel, Iraq), and Clare Azzopardi, Caldon Mercieca, Teodor Reljić, and Philip Sciberras from Malta. Readings will be mostly in Maltese and English, but some short works will also be read in their original language.
This year we will also we will screen two poetry films, Clare Azzopardi and Ken Scicluna are working on a poetry film which presents Achille Mizzi's work "Kafè", while Abigail Mallia and Carlos Debattista are producing a poetry film of Oliver Friggieri's work "Il-Lejl f'Dan l-Istazzjon". This project is being run in collaboration with the Valletta 2018 Foundation.
Robert Farrugia will be our guest musician whilst this year we will also have a resident band. 
During the readings on Friday (8.00pm – 11.00pm), children are being invited to attend an open workshop in Maltese and English on story writing and building papier-mâché models for festivals and other outdoor activities. This parallel event, which is part of the Oħloq Kultura programme, is being organized by More or Less Theatre in collaboration with the Valletta 2018 Foundation. Parents who would like to enrol their children for this workshop are to write to [email protected], indicating what time they will be attending.
Pre-Festival Events
The writers will be in Malta throughout the week of the festival to take part in the translation workshop led by Nadia Mifsud. They will be translating each other's works, and reading some of these translations during the festival.
The pre-Festival events featuring the invited authors, festival organisers and publishers are being held on Sunday 19th August, Tuesday 21th, and Wednesday 22nd, all starting at 8.00pm. There are also two events at Fort St Elmo that start at 7.00pm on Friday 24th and Saturday 25th. The publishers are festival organisers present with us this year are Mohamd El-Baaly, Neeta Gupta and Anne-Lise Dyck-Daure.
In the weeks leading up to the Festival, other literary events involving the invited Maltese writers are being held, including an Open Mic session, an event with Philip Sciberras at the San Vinċenz de Paul Residence and a summer school visit.
The 2018 edition of the Malta Mediterranean Literature Festival and the translation workshop are being held in partnership with Arts Council Malta and Literature Across Frontiers, and with the support of Valletta 2018 Foundation, The Manoel Island Foundation, Għaqda tal-Malti – Università, the volunteers of Tal-Kultura, and Studio Solipsis. The MMLF is the recipient of the EFFE, Europe for Festivals, Festivals for Europe label.
The Festival logo and other promotional material were designed by artist Pierre Portelli.
More information is available on Facebook on pages of Inizjamed Malta and the Malta Mediterranean Literature Festival 2018 and at inizjamedmalta.wordpress.com.
HELA
HELA is the first local hub that is addressing creatives in the literary arts. The hub is committed to the creation of an open platform designed to foster excellence across the sector. It not only encourages strategic career thinking but also works towards providing all the necessary tools for one to engage in commercial activities which s/he might have not considered possible in the past when there was no single entity to turn to for technical advice.
One of its main objectives is to provide all the necessary support for one to develop talents and passions into a serious and sustainable profession. HELA thrives on peer to peer relationships offering structures designed specifically for Continuous Professional Development in an environment of professional solidarity and support. More importantly, it promises to fill a gap – knowledge about the local and other existing markets that are relevant to creatives in this sector – by investing serious resources into market research.