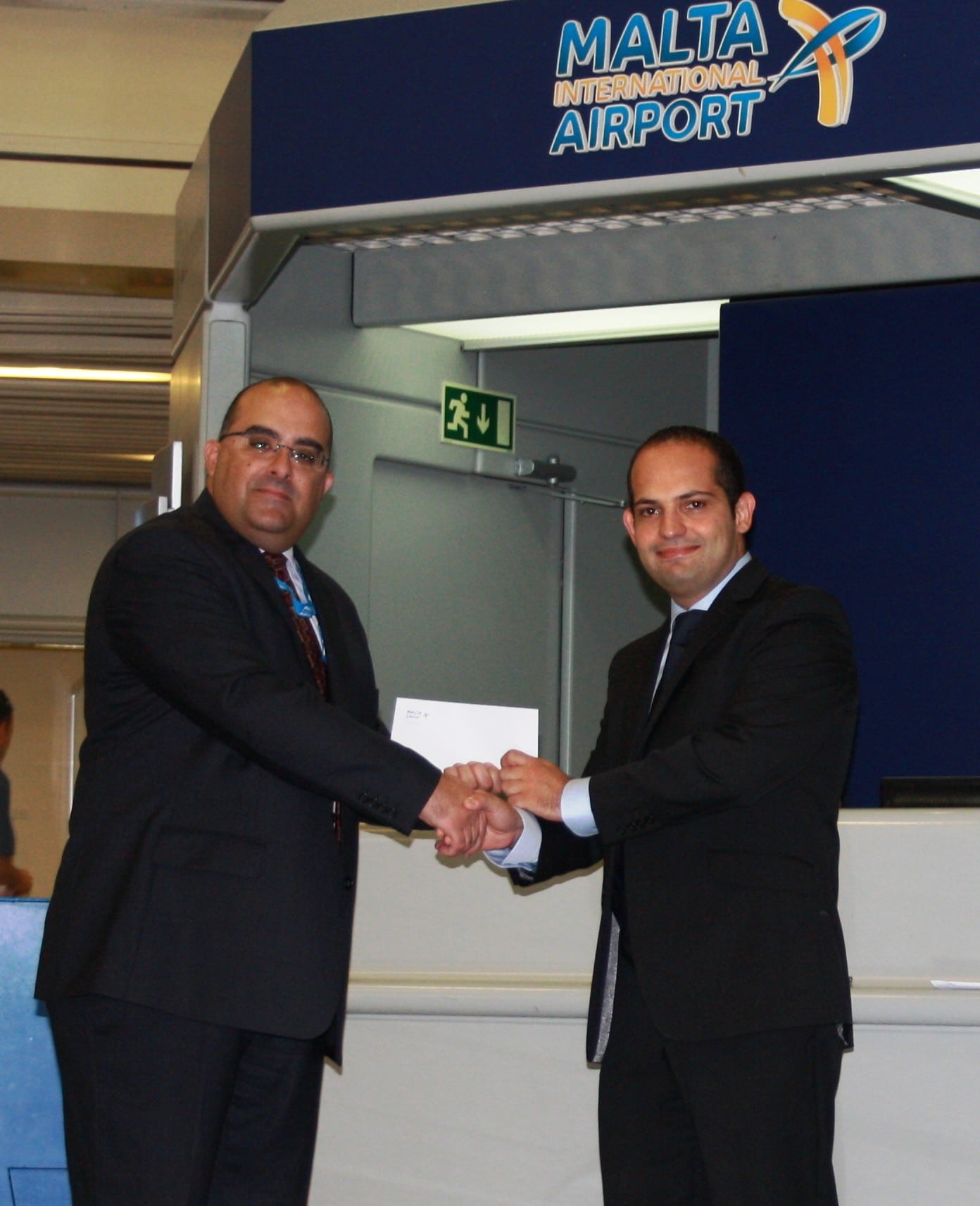 Malta International Airport is supporting this year's edition of Festival Mediterranea, now in its 11th edition, produced by Teatru Astra. Festival Mediterranea is the only autumn festival on the island, with a month-long programme of events that opens with a double-representation of opera. This year, Teatru Astra is producing Giacomo Puccini's Madama Butterfly featuring three world-class singers – soprano Daniela Dessì, tenor Fabio Armiliato and baritone Carlo Guelfi – on Thursday 25th and Saturday 27th October.
The sponsorship was presented by Mr Reuben Sciberras, Head, PR & Corporate Communications at Malta Airport to Mr Michael Formosa, Festival Mediterranea Chairman (pictured above). Mr Sciberras said that the support for Festival Mediterranea is in line with the Company's Corporate Social Responsibility as it fulfills two of its four CSR pillars, i.e. Culture and Tourism. "Malta Airport has a long tradition of supporting initiatives which add a cultural dimension to Malta's tourism product, and in this case, help also the niche market of Gozo as a distinct destination."
While thanking Malta Airport for its support in assisting this voluntary organisation, Mr Formosa revealed that since its first edition in 2002 the festival has attracted at least 1,500 foreign participants who travelled to Malta and Gozo specifically to attend the events. He said that this figure does not include tourists who happen to be on the islands and decide to attend any of the cultural events on offer, and neither expatriates who own property on the island and decide to extend or anticipate their stay on Gozo.
He also said that, in order to continue fostering an appreciation for the arts in the younger generation Teatru Astra is, for the fifth year running, heavily subsidising a number of tickets for Thursday 25th October's opening night of Madama Butterfly for full-time students aged 25 or under. 200 Balcony tickets are thus being offered at the heavily discounted price of €10 instead of €50.
The festival is intended to provide an opportunity for cultural tourism while showcasing aspects of local identity, culture and traditions. Besides the opera it includes the only Malta-performance of an original tango production which is currently on European tour; a piano recital by the world's youngest left-hand-only pianist, Nicholas McCarthy; a concert of opera arias; a recital by band soloists; and La Stella Philharmonic Band's Annual Grand Concert. Festival Mediterranea also takes patrons to visit St George's Basilica which houses works of art including those of Mattia Preti; a visit to a number of Giuseppe Calì's paintings in several churches; and a visit to a local vineyard. The festival also includes a lecture focusing on the subject of 'society and the economy' in the times of the Knights of Malta. A number of these events are held free of charge.
The festival is organised by volunteers with the financial support of the Malta International Airport, Bank of Valletta, Malta Tourism Authority, Ministry for Gozo, Ministry for Finance, the Economy and Investment, Malta Council for Culture and the Arts, and the Victoria Local Council.
Information is available at www.mediterranea.com.mt or 21550985. Bookings at [email protected] or 79256897.