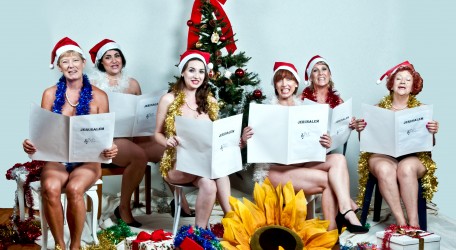 The MADC is opening its season 2012-13 with Calendar Girls, the stage production based on the Miramax film bearing the same name.
Calendar Girls is such a popular play that the rights for performance by amateur theatre companies was only granted for 12 months, starting 1st September this year.  However, after receiving over 560 applications, the period was extended to 18 months.  346 licences have been granted so far, and the MADC is very pleased to have obtained the sole rights to perform this utterly captivating play in Malta in October.
The script by Tim Firth is funny and shamelessly sentimental, based on the true story of a handful of middle-aged women who "made a difference" for a good cause.  In an attempt to raise money for a new settee in the local hospital waiting room, they pose nude for an "alternative" calendar.  The news of the women's charitable venture spreads like wildfire and hordes of press descend on the small village of Knapeley in the Yorkshire Dales.  What started out as an innovative idea to raise £500 for a sofa, suddenly went global and has to date raised more than £3.5 million towards the Leukaemia Research Fund.
In the spirit of the original calendar girls, MADC is collaborating with Hospice Malta and will be donating a percentage of ticket sales to this organisation. In addition, MADC is also producing and publishing its own "alternative" calendar featuring local personalities. Proceeds from the sale of this calendar will also go to Hospice Malta. These calendars can be purchased through the MADC website www.madc.com.mt or at the Manoel Theatre on the performance nights.
The production is directed by Nanette Brimmer and features an excellent cast made up of:  Polly March, Nicola Schembri, Sue Scantlebury, Izzy Warrington, Marta Vella, Nicola Abela Garrett as the 6 calendar girls and a strong supporting cast including: Marylu Coppini, Ninette Micallef, Francesca Briffa, Alan Paris, Paul Portelli, Chris Hudson, Annemijn Rutgers and Michael Mangion.
With a mingling of pathos and comedy, Calendar Girls is guaranteed to make you laugh and cry and it is certainly well worth a date in your calendar.
Calendar Girls will be performed at the Manoel theatre on 19-21 and 26-28 October.  Tickets may be booked by calling the Manoel Theatre on 2124 6389, by email: [email protected] or purchased online through the Manoel Theatre website: www.teatrumanoel.com.mt.
Supported by Melita, Francis Busuttil & Sons and Island Caterers.