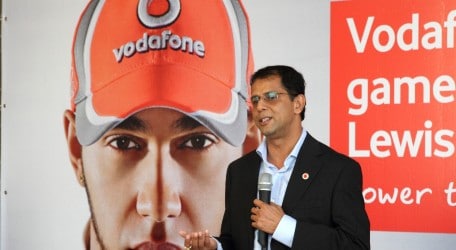 Malta will see renowned driver Lewis Hamilton for the first time ever perform in the Vodafone McLaren Mercedes F1 car. Lewis Hamilton will be in Malta on Sunday the 9th of December as part of Vodafone's latest initiative aimed at helping people believe in themselves and achieve more.
Vodafone together with Vodafone McLaren, Mercedes and driver Lewis Hamilton are promoting the desire in all of us to be better under the heading of Raise Your Game. This initiative which goes beyond the commercial and touches on the social aspect of pushing all the members of the Maltese community a little bit further, is founded on the restless human desire to make progress, in small ways or big.
Balesh Sharma, CEO of Vodafone Malta (pictured above) said that the Raise Your Game philosophy is ingrained in the way Vodafone acts and through the initiatives that Vodafone has introduced including the latest Smartphone Crew which help people maximize the potential of their Smartphones and devices. He further stated that Vodafone believes in touching in a positive way the lives of the people in the community it works in, "I am proud that Vodafone has come up with an initiative that goes beyond the commercial parameters. This is a once in a life time opportunity. It is an initiative that endorses the attitude that we can all do better. This outlook to life has never been the exclusive characteristic of racing car drivers or Olympic athletes or world famous musicians. It's in all of us. It's a positive attitude that we can do better in everything we do, even in the very little steps we make throughout the day that will ultimately help us make a big difference. I am proud to be presenting this initiative to the Maltese public and hope that all Maltese citizens will embrace this positive outlook to life."
Vodafone has teamed up with Mercedes, PBS and Allied Group to provide the general public packed events and initiatives that people can enjoy and benefit from.
Bernardette Bonnici Kind, Director of Auto Sales Ltd stated that Mercedes-Benz, Vodafone and McLaren are leaders and innovators in their respective areas of operation, raising the game in their own ways. "We are therefore delighted to be involved in Vodafone Malta's initiative, Raise Your Game," she declared, "it is actually one of Mercedes' core values to always strive harder, to achieve more, to provide excellence in their vehicles and customer relations. Having the Vodafone Mercedes McLaren F1 car on display at the Mercedes-Benz showroom will also be a special treat to the huge amount of F1 followers in Malta and owners of Mercedes-Benz cars who will have an opportunity to have a closer look at this marvel prior to it being driven by Lewis Hamilton himself."
Anton Attard, CEO of PBS Ltd said that PBS is proud to be a partner in this one of a kind initiative. "This is a true first for Malta and we are honoured to support Vodafone in Lewis Hamilton's driver appearance, together with the Vodafone McLaren Mercedes F1 car under the initiative of Raise Your Game," he said. "It was natural for us to join forces in the Raise Your Game initiative since this philosophy very much prevails in the work we do. The Raise Your Game Television commercial featuring Lewis Hamilton will be exclusively aired on TVM thus enabling the Maltese public to be inspired by the Raise your Game concept and to urge people to attend Paqpaqli ghall-Istrina."
Adrian Hillman, Executive Director at Allied Group said that The Times is proud to announce its partnership with Vodafone through the Raise Your Game initiative. "The Raise Your Game programme is a compelling one as it motivates people to strive for the best in whatever they do. The Times is very happy to be supporting Vodafone in the Lewis Hamilton Vodafone McLaren Mercedes Driver Appearance," he said. "To mark this extraordinary event, The Times and Vodafone are launching a competition whereby a lucky reader of The Times or The Sunday Times will get the chance to win a Hot Lap with Lewis Hamilton in The Vodafone McLaren Mercedes F1 car. This competition starts on Sunday 4 November and all the relevant information will be available in The Times, The Sunday Times and timesofmalta.com."
Vodafone is also working closely with established names such as Tenishia, the production team behind Venere, Paqpaqli għall-Istrina, the Foundation for Information Technology Accessibility (FITA) and KDH Educational Workshops to cover areas such as creativity with children, music, sports, fashion and the social aspect.
The events will reach their peak on the 9th of December when Lewis Hamilton will have a day of events which will bring him closer to the Maltese public. Lewis Hamilton is expected to attend the much acclaimed 'Paqpaqli għall-Istrina' where he will be performing laps with his MP4-26 race car. Moreover one lucky fan can win a hot lap with Lewis Hamilton by participating in a competition open to everyone.
For updates on this event visit vodafone.com.mt/Raiseyourgame or visit Vodafone Malta's Facebook page.