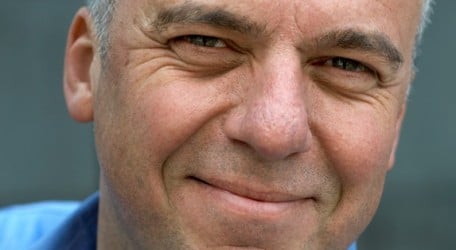 Defined as a 'man on a mission', Leo Bormans (pictured above) describes himself as an ambassador of happiness and quality of life. On Friday 1st June, Mr Bormans will be in Malta to deliver a public talk on happiness and how to develop optimistic thinking entitled: "The Power of Positive Thinking". The event, including a public debate, will be moderated by Professor Joe Friggieri.  It will be held at the Phoenicia Hotel, Floriana and starts at 8.30am.
Organised by LeadingTalks, in collaboration with the University's Research, Innovation and Development Trust (RIDT) and the Malta Philosophy Society, the talk is open to social workers, businessmen, teachers, academics, NGOs, and government officials.
Leo Bormans challenges the myths about happiness and positivity. A Belgian journalist, inspirator, writer and motivational speaker, he is the chief editor and author of the international bestseller "The World Book of Happiness" – a collection of 100-odd short essays about happiness. The book has been translated in various languages and has been sent by President of the European Council Herman Van Rompuy to all leaders of the world as a special New Year's gift in 2012.
"Mr Bormans supports the international movement for Happiness and Quality of Life. Today, several researchers are encouraging a relatively new discipline of positive psychology. If we have a better understanding of our inner positive potential and look at the bright side of things, then we can make better use of our profound techniques to create happiness around us," said Patrick Parnis, the mind behind LeadingTalks.
LeadingTalks is an organisation that has for the last year brought over to Malta a number of high-profile speakers from different backgrounds – industry, media, entrepreneurship, who gave public seminars to selected audiences.  LeadingTalks aims to provoke healthy discussions among policy makers and the industry following a presentation by an international speaker.
"RIDT is pleased to associate itself with this initiative as part of its outreach programme. We are working together with a number of cultural and academic events, creating a platform for more awareness about RIDT's role as the Trust is seeking to attract contributions to further the advancement of research, innovation and development in all areas of tertiary study," said Wilfred Kenely, CEO of RIDT.
The event is being supported by the European Commission, The Malta Business Weekly, Bank of Valletta p.l.c., Lighthouse & Ashley, Phoenicia Hotel, PSA Insurance, Palumbo Shipyards, Multi Packaging Co. Ltd, John's Garage and Good Causes Fund.
The World Book of Happiness is available from Agenda Bookshop. Those attending the Public Talk – The Power of Positive Thinking are asked to register in advance by email on info@leadingtalks.com.mt. Space is limited. Entrance is free of charge.