Le Meridien's creative kitchen brigade has come up with a fantastic culinary creation, reflecting the theme of our 2012 Festivities : LE MERIDIEN MUSICAL CHRISTMAS.
A pleasure to the eye, a treat for the sweet tooth
For the occasion, Executive Chef Reuben Grixti and his dedicated team have created a giant Christmas cake shaped like a beautiful grand piano. Set up in the middle of the hotel lobby decorated in a Mary Poppins theme with countless magical umbrellas hanging down from the ceiling, this Christmas cake is not only a true piece of culinary art. Portions of this delicious cake are also being sold in favour of L-Istrina. For €2 only, visitors can indulge in sumptuous flavours rinsed down by a fantastic cup of tea or coffee.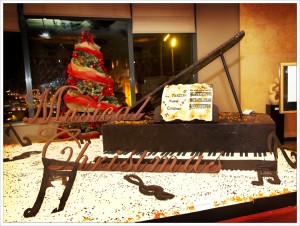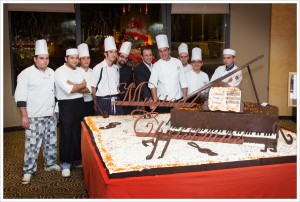 Helping others has never been so easy
Le Meridien invites you to visit the hotel this coming weekend and support this great initiative.  L-Istrina is Malta's major charity event, and belongs to The Malta Community Chest Fund. Participating in such activities is not only a delightful moment for friends and families, but also helps those in need.
The giant Christmas Cake is located on level 3 of the hotel premises, in front of the reception desk. To further tempt the amateurs, below is the secret recipe for the edible Grand Piano… So many reasons to visit Le Méridien St Julian's Hotel  & Spa in Balluta Bay this weekend. Will you be there?
Le Meridien thanks the public for its continuous support both towards the creative efforts of its kitchen brigade as well as the great initiative that is L-Istrina : together we will make a difference.
THE RECIPE!
CAKE
•       108kg of flour
•       63kg butter
•       1,080 eggs
•       102.6kg sugar
•       4.32kg of baking powder
•       64.8litres of milk
•       9kg Lemon jam
•       12 kg Cherry jam
PIANO
•       48kg of dark chocolate
•       800g black marzipan
•       6.3kg of white chocolate
COVER
•       62kg icing sugar
•       58kg of marzipan
•       3 liters of lemon juice