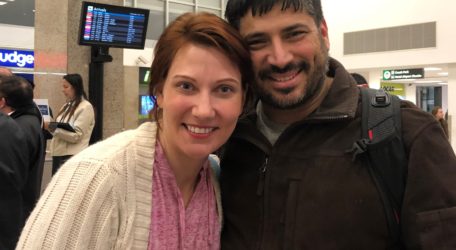 More than three-quarters of mothers of children from rape choose not to abort, according to Jennifer Christie, herself a rape victim who chose to bring up her baby as her own.
Ms Christie said: "75-85% of mothers of children from rape will say no to abortion where they have the choice. Rape is not the exception that opens the door to abortion. To us, it's very simple: violence and trauma is never healed by more violence and trauma. Who we are as human beings is never determined by how we are conceived."
Jennifer and her husband Jeffrey of 23 years are in Malta to take part in the annual March for Life event on Sunday at 3.30 p.m. in Valletta. Both are expected to address the gathering. The meeting place is in front of Castille from where participants will walk down Merchants Street, turn into St John Street (passing in front of St John's Co-Cathedral) and up Republic Street, finishing in front of Parliament.
They are here to share their story which, Jennifer affirms, is not unique. "This is not a rare story. Our son is not a reminder of a horrible trauma. He is a beautiful gift; he is healing; he is not a rapist's child; he is our son. And I am one woman telling one story, but I am representing the large majority of mothers from rape who find joy and comfort in healing after such a trauma through our children."
The Christies are tired of letting other people speak on their behalf. "So, we want to share our story and I don't want people to use the child from rape as the excuse to smother millions of other children," she said. You can read Jennifer's story at  www.unbrokenireland.org/stories/jen-christie/.
Jeffrey, a former military serviceman, is the calming, logical part of the relationship that started when the two were teenagers at high school in California, USA. He describes their characters as complimentary, with Jennifer being fiery and emotional. Apart from being the mother of his four children, she also works as a sign language interpreter.
For Jeff, it has not been easy too, but he has suppressed his emotions to be the rock and calming influence on her and the family. He says that Jennifer found help in Save the 1, an organisation whose president, Rebecca Kiesling, was in Malta two years ago for another event organised by the Life Network Foundation Malta. 
Jennifer also appealed to medical professionals not to assume that abortion was the 'option' to address a 'problem'. She urged all those in this situation to seek advice, which can be obtained in Malta through the Life Network Foundation Malta which offers a host of services via www.LifeLineMalta.eu.