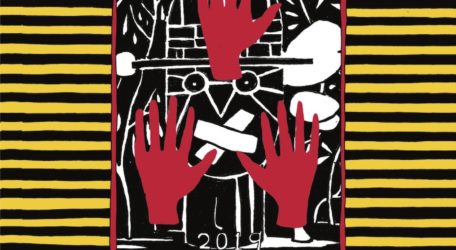 Dates: 25 – 27 July 2019
Venue: Msida Bastion Historic Garden
Doors open at: 19:00
Sunset Cocktails from: 19:00
Screenings start at: 21:00
Ticket Prices:
€6.50 for Thursday
€8.50 for Friday
€8.50 for Saturday
Combo ticket for three days @ €15
Bar and hot dog stand available all night long
More info on: http://www.kinemastik.org
Facebook Event: https://www.facebook.com/events/346386246198280/?event_time_id=346386252864946
OVERVIEW
The 15th edition of The Kinemastik International Short Film Festival (KISFF) is taking place from 25 – 27 July at The Garden of Rest in Floriana. Kinemastik is a cultural NGO based in Malta, responsible for a year-round programme of film screenings, concerts, exhibitions, workshops, talks and short film production.
Kinemastik is supported by Arts Council Malta through a Cultural Partnership Agreement. Other sponsors and partners include Din l-Art Helwa, Stretta Beer, Marks & Spencer, British Council Malta, Malta Tourism Authority, Aldo, P31, Nextbike and The Film Grain Foundation.
NOVELTIES
KISFF goes green
Kinemastik has always worked toward a green policy at its events, and this year we go a step further.
In an effort to eliminate single-use plastics and produce as little waste as possible, KISFF in collaboration with Stretta Beer, is introducing reusable cups.
Patrons will be asked to leave a €2 deposit at the bar when they buy their first drink. After that, they can exchange their cup for a fresh one as many times as they wish, for free. Once patrons are ready to leave, they can return the cup to the bar and collect their €2 deposit.
But this is not all. We are also introducing another green initiative for the very first time – a bicycle sharing station in collaboration with Nextbike. Forget about chasing late night buses from Valletta. Nextbike will offer a voucher for one hour bike sharing to all Kinemastik patrons throughout KISFF 2019 . You can use this voucher to cycle home from the Garden of Rest, or cycle to Kinemastik from any of the Nextbike locations. For more information on how it works please go to: https://www.nextbike.com.mt/en/malta/
Payments by card
Patrons will be able to purchase tickets at the festival entrance using a bank card . All major credit cards will be accepted.
FILM PROGRAMME
Thursday 25th June
The Festival will open with a special screening of In Praise of Nothing, a satirical documentary parable about nothing, narrated by the iconic Iggy Pop. We are excited to be showing the film with subtitles in Maltese, translated by poet Miriam Calleja.
Directed by Boris Mitic, the documentary has won multiple awards at Locarno FF, IDFA (Masters), Moscow FF, Shanghai FF, Sarajevo FF, CPH:DOX, Visions du réel Nyon, Transcinema Lima FF, El Gouna FF, Sofia FF, Jihlava DFF, Bosphorus FF, DocPoint Helsinki/Tallinn, ZagrebDox, Tempo DFF Stockholm, One World Romania FF, Ljubljana DFF, Lichter FF Frankfurt, Go East FF Wiesbaden, Frames of Representation FF London, Mediawave FF, Riga Pasaules FF, Beldocs FF (opening film), Dok.Fest Munich, Docs Against Gravity FF Warsaw (opening film), Seattle FF, Cinemambiente FF Torino (closing film), 86 FF, Underhill FF Podgorica, Solo Positivo FF Šibenik, Golden Apricot FF Yerevan, 3 Smoked Olives Island Festival, Dokufest Prizren, Liburnia FF, Makedox FF Skopje, Nancy FF, Meetings in Siberia FF Novosibirsk, Balinale FF Bali, Manaki Brothers FF Bitola, Festival de Cine Radical Bolivia, Festifreak FF La Plata, Saratov Sufferings FF, DokuArt Bjelovar, Bergen FF, DokuBaku, L'Alternativa Barcelona (closing film), Escales documentaires de La Rochelle, Tirana FF (closing film), FICLO FF Olhao, Biennale de l'Image en Mouvement Geneva, Faena Art Center Miami/Buenos Aires, Institute of Contemporary Arts London, Palazzo delle Esposizioni Rome, Palazzo Grassi Venezia, Art Encounters Biennale Timisoara, Discutia secreta Arad, Momenta Biennale de l'image Montreal and others.
Synopsis: A disembodied voice (belonging to Iggy Pop) christens itself as Nothing, and narrates in verse, its various observations and remarks on humanity across images taken from over 70 countries, shot by 62 cinematographers. Being literally Nothing, with no attachments or identities or prejudices, it speaks freely and satirically on just about anything and everything under the sun, often forming ironic relationships with the images onscreen. Frequently hilarious, sometimes poignant, and on a few instances even provocative, it proves to be a refreshing, self-reflexive ride of experimentation with filmic form, and would certainly appeal to all the cynics and critics and lovers of philosophy and wordplay.
Friday 26th and Saturday 27th June 2019
On the main screen of KISFF, we will screen a selection of 17 films from 12 different countries in competition. Programmed by Emma Mattei, the main screen will showcase a selection of international festival winners such as Berlinale, Cannes, Venice, Visions du Reel, Clermont Ferrand, as well as from emerging and local filmmakers.
This year's films are preoccupied with identity – self versus the 'big other' – from rappers in China grappling with censorship to throngs of people on board cruise liners, the current trend in short film is one of exploration – how do we step away from the density that invades our daily lives, both in reality and virtually, and fight the waves of populism by finding one's own space? Be it in the most intimate way, as seen in the Spanish film Watermelon Juice, or as part of a creative community, as expressed in the film Rise, this year's films communicate a sense a global concern, and an urgency for the assertion of small freedoms, for one's truth, no matter the cost.
Some of the highlights in this year's programme include:
Who Talks by Swedish director Elin Övergaard that won the Best Swedish Short at the Göteborg Film Festival. The film portrays two people standing on opposite sides during an information meeting regarding the new refugee home for unaccompanied children.
Past Perfect
 is a film by Portugese director Jorge Jacome. Winner at the Hamburg Film Festival, it is a film that borrows, transmits and recomposes thoughts: an associative chain of images and an imaginary dialogue across the centuries until today. Where is one permitted to be sad, where does sadness have its place?
Other films include Anna, a co-production between Ukraine, UK and Israel directed by Dekel Berenson. The film had its premiere at Cannes and tells the story of Anna who lives in an industrial town in war-torn eastern Ukraine. She works in a meat processing plant and dreams for a better life. Desperate for a change, she is lured by a radio advertisement to attend a party organized for foreign men searching for love.
Rise is a multidisciplinary audiovisual work produced in universes at once pop and marginalized from different cities in the world. Director duo Bárbara Wagner and Benjamin de Burca, represented Brazil at the Venice Biennale with this film about the musical universe of a community of young poets, rappers and singers who meet weekly at a community centre in Scarborough, on the outskirts of Toronto, Canada.
Watermelon Juice by Spanish director Irene Moray premiered at the Berlinale this year. Barbara and Pol spend a few days on holiday with a group of friends in a house surrounded by nature. They want to have a good time and find a peaceful space where they can enjoy their intimacy. With the support of Pol, in the midst of nature, between tears and laughter, Barbara will heal old wounds and redefine her sexuality.
Trapped in the City of a Thousand Mountains comes all the way from China. Dutch director David Verbeek documented a new phenomenon of authentic Chinese rap that has taken the internet by storm, but there is a struggle for freedom of speech. Rappers are trying to figure out what they can and cannot do after new censorship rules are announced.
Chinese/Canadian director Yen-Chao Lin shot The Spirit Keepers of Makuta'ay on location in the traditional Amis territory on the east coast of Taiwan. This super 8 experimental documentary outlines the different spiritual practices of Makuta'ay, from Daoist ritual possession to memories of past Amis sorcerers.
From Visions du Reel we have selected the short fiction Akaboum by French director Manon Vila. In the Parisian suburbs, a group of adolescents wander, looking for a rave party. Akaboum questions the official discourse on colonial heritage and social marginalisation. A film that shakes up the stereotypes built around the notion of fringes.
Four Maltese works are included in this year's programme, including a Kinemastik premiere for a piece entitled Unknown Ocean by Dolphin Club, an audiovisual duo based in Malta. There are two music videos, one by Francesca Merceica and another made by Ian Schranz and Nick Theuma for local band Brikkuni, and Filfla, an animation directed by Fabrizio Ellul that premiered at the Valletta Film Festival earlier this year. There will also be a music video shot in Malta, directed by Aoife Blair for music artist Joe Hertz who is signed to UK music label Juicebox.
All films on the main screen will be adjudicated by an international jury and are eligible for the Kinemastik Golden Dot award. The audience will also be able to vote and choose their favourite film.
We will also show a selection of out-of-competition films in a secluded part of the garden – we call this programme Neck of the Woods. We invite the audience to discover these films which will loop on both Friday and Saturday.
JURIES
With 15 years of independent short film under our belt we have expanded our jury to 5! Please find short bios for our juries below.
LISA GWEN BALDACCHINO
Lisa is a curator of words and an editor of spaces. Her work and her projects are the outcomes of these often overlapping and interchangeable roles. After all, either deals with space and its distribution; with aesthetics, design, interpretation and experience. One focuses on words and type, the other on artworks and installations. Both create images and visuals; both deal with narratives. Lisa currently works as an associate in the strategy and funding team at Arts Council Malta. She is the founder of the MaltaDoors project.
ROXMAN GATT
Roxman Gatt is a multidisciplinary artist whose work encompasses, text, painting, 3D, video, sound, photography, sculpture, installation and performance. Roxman's research explores sexuality, identity, gender and consumption. Most recently the artist has been working with themes of humanising and interacting with consumer objects. Roxman was awarded the Chris Garnham Prize (2015) as well as the Magnum Showcase Online Photography Award (2013). Recent exhibitions include: Up is a Relative Concept, Fold, London, Uk, Perfiction, Harlesden HighStreet, London, UK, Drawings, 650mAh, Brighton, UK, Visions, Programme 3 | Bedwyr Williams, Nunnery Gallery, London, UK, Here & Now, Valletta Contemporary, Malta, MT.
MARK MANGION
Mark Mangion is an artist and independent curator. He has exhibited internationally including the Thessaloniki Biennial, MAXXI Rome and ICA London. He is the founder of Malta Contemporary Art.
GLEN MCLEOD
Glen is a Senior Creative Producer for Grey London, overseeing campaigns for clients such as Volvo, Emirates and HSBC. He has been on the judging panel for the Creative Review Photography Annual and the Getty Images Prestige Grant. He has a passion for film, with an even bigger passion for Twistees and swimming in Xlendi Bay.
ANTONIO TUFIGNO
Antonio is a lover of all things unnecessary and mundane. A compulsive collector of collections, he is keen on all cultural forms and engages haphazardly in anything mildly interesting. The human equivalent of a tumbleweed, he will roll and land anywhere there is a human gathering, leaving a characteristic trail of hair along trodden paths. An avid observer of ants and their social mores, he has never overlooked the pleasures of displacing cockroaches and beetles from their habitats and studiously observing their reactions to novel spaces and confines. Antonio enthuses on inner-harbour decadence and records it photographically. He may be spotted later dancing robotically, in very short shorts, between graves.
KISFF MUSIC
We invite you to stay for the KISFF after parties. Line ups are as follows:
Thursday 25th June 2019: Kinemastik All Stars including: Wioletta Kulewska, Jon Banthorpe, Tom Van Malderen, Sandra Zaffarese.
Friday 26th June 2019: Felix (sunset mix), Dean Wengrow, Capitol K.
Saturday 27th June 2019: live performance by Fattima Mahdi, Nigel Baldacchino, aUncle Al, Lucie Grace and Steph Von Reiswitz.