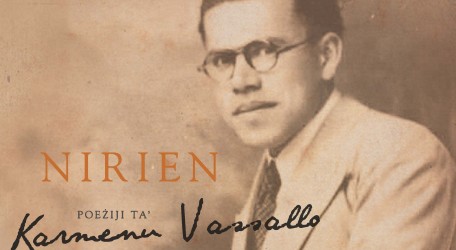 Inspired by Karmenu Vassallo's fiery poems, composer Dominic Galea have set to music a selection of ten poems from the Siġġiewi poet's anthology. They will be performed by leading singers Claudette Pace, Ludwig Galea, Corazon, Joseph Aquilina and Doreen Galea. The concert in honour of one of Malta's leading romantic poets is taking place at the University's Sir Temi Żammit Hall on Friday 18 May, being the 25th anniversary of the poet's passing away. The event will also include a video feature about the author and an exhibition of documents, both prepared and coordinated by Marcel Zammit Marmara`.
Affectionately known as il-Poeta tan-Nirien, Karmenu Vassallo (1913-1987) was one of the mainstays of Maltese literature. He has written many literary works in Maltese, Italian and English. His poetry portrays his life long experiences, in particular his love for Siggiewi.
Entitled Nirien, like the CD album that will be officially launched on the day, the commemorative event is organised by composer Dominic Galea and Professor Manwel Mifsud from the Department of Maltese of the University of Malta, in collaboration with the University of Malta, the Research Innovation and Development Trust of the University (RIDT) and Heritage Records, the producers of the CD.
"This initiative forms part of a series of fundraising activities in RIDT's support. RIDT has been set up to support the further development of high-calibre research projects and to attract vital funds. There are a number of research studies being carried out at our University, ranging from science and technology to art, literature and social sciences.  Initiatives like this one help raise funds for much needed research studies, while fostering a a sense of pride in our University," said Wilfred Kenely, CEO of RIDT.
Held under the patronage of the Hon Prime Minister, Dr. Lawrence Gonzi,the programme will take the form of a multi-disciplinary evening.  Admission is free of charge and open to the public, however a copy of the CD, Nirien – Poeziji ta' Karmenu Vassallo, will be given to all those who donate €10 and over. Mr Zammit Marmara` has recently published a biography about Karmenu Vassallo.
Those wishing to attend can reserve their seat in advance by contacting comms@um.edu.mt or by phoning on 2340 2829. The concert starts at 20:00hrs. The CD album is available at the leading record shops.