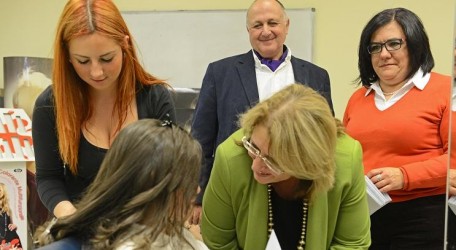 Pictured above: Minister Marie Louise Coleiro Preca offering gifts on behalf of HSBC Malta Foundation during Women's Day celebrations at MCAST. Seen here with (from right to left) HSBC Malta Manager Sustainability Doriette Camilleri and MCAST Deputy Director Patrick Galea
As part of International Women's Day celebrations, HSBC Malta Foundation and MCAST Institute of Community Services treated women from domestic violence shelters to a morning of relaxation and beauty therapies, including facials, makeovers, haircuts and hairstyling.
The Minister for the Family and Social Solidarity Marie Louise Coleiro Preca met with the ladies as they enjoyed the attention of MCAST lecturers and students from the MCAST Institute of Community Services, using products donated by Beauty Imports, Extremes Trading and Beauty Centre.
The caring institutions involved were Dar Merħba Bik, Dar Qalb ta' Ġesu' and the Domestic Violence Unit within Appoġġ, as well St Jeanne Antide Foundation and Prison Fellowship.
"This Woman's Day activity at MCAST has become an important and memorable day for all involved as it brings such a great response and genuine appreciation from all involved. It is also very encouraging to see so many volunteers working together to make this activity a success. Most importantly, the ladies get to take some special time for themselves which helps them feel good. This is an important source of support in itself," said HSBC Malta Foundation's Doriette Camilleri.
The principles of International Women's Day are entrenched in HSBC's vision for women's career development and gender equality in the work place. In line with this commitment, the HSBC Malta offers specialised policies and activities, such as workshops, seminars and mentoring, geared specifically towards supporting its female employees.