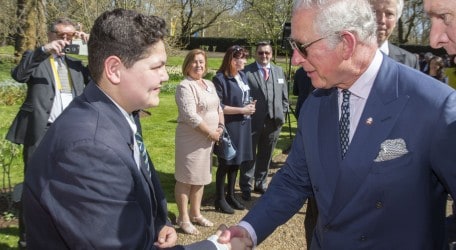 His Royal Highness The Prince of Wales met with Heads of Government and Heads of State from across the Commonwealth at a Prince's Trust International reception held at St James' Palace. Also in attendance were The Hon Evarist Bartolo, Minister for Education and Employment in Malta, and Andrew Beane, CEO of HSBC Malta.
The event welcomed representatives from across the Commonwealth, who heard from: HRH The Prince of Wales, and Lloyd Dorfman CBE, Chairman of The Prince's Trust and Prince's Trust International about how Prince's Trust International is working with a range of delivery partners to support young people around the world into sustainable employment, education or training. 
Prince's Trust International works in partnership with governments and agencies to deliver the proven youth programmes of its sister charity, The Prince's Trust, which for over 40 years has helped more than 870,000 young people to transform their lives in the UK. Prince's Trust International was launched by HRH The Prince of Wales in 2015 at the Commonwealth Heads of Government Meeting in Malta. 
Prince's Trust International is currently working with local strategic and delivery partners in: Australia, Barbados, Canada, Greece, India, Jordan, Malta, New Zealand, and Pakistan. Scoping has also begun in Malaysia, Jamaica, and Trinidad and Tobago, to be ready to run pilot programmes in 2019. 
Following the announcement of the newly expanded Prince's Trust Group, His Royal Highness took this opportunity to reiterate his commitment to giving young people in the UK and across the world a chance to succeed. 
The Prince of Wales paid tribute to the young people whose lives have been transformed by his charity and the devotion of all those behind its work. He also spoke of the opportunity to support more unemployed young people across the Commonwealth with Prince's Trust International's programmes in education, personal development and business.
Prince's Trust International together with The Prince's Trust in the UK, and newly formed Prince's Trust Australia, Prince's Trust Canada, and Prince's Trust New Zealand will strive to harness the barriers to social mobility to further support local communities.  
Lloyd Dorfman CBE, Chairman, Prince's Trust and Prince's Trust International, said: "The mission of our charity, to provide skills and jobs for young people, will create our common wealth. Since launching at the last CHOGM in 2015, PTI has grown and developed. We are running programmes in nine countries, seven of which are in the Commonwealth, including Malta.
We have supported over 4,700 young people and this is set to grow. We are making a difference and changing lives. With youth unemployment at over 40% in some Commonwealth countries, and our experience in the UK showing that young people are three times more likely to be unemployed as adults, there remains much for us to do and we have ambitious plans to grow."
Guests also heard from Roland Vella, a 14 year-old Achieve programme participant from Malta, he said: "Achieve has helped me turn around my life.  I now dream of being an example to others. There is no doubt that without Achieve, I would not be where I am today. I have taken control of my life and I look forward to what the future will bring."
Prince's Trust International in Malta
In Malta, nearly 20% of students complete their secondary education without the necessary skills and competences expected after 12 years of schooling. Prince's Trust International has partnered with the Ministry for Education and Employment to deploy the Achieve programme, which aims to engage students in learning and develop their interest in school. 
Working in partnership with the Ministry for Education and Employment and HSBC Malta Foundation since 2015, Prince's Trust International have now introduced the Achieve programme into over 30 schools and centres across the island and have supported over 300 young people to re-engage in education and build on core personal and employability skills. 
Students have the opportunity to work towards The Prince's Trust Personal Development and Employability Skills (PDE) qualification, which is recognised by the Maltese National Commission for Further and Higher Education. The qualification is achieved by completing a series of bite-sized units, which are appropriate and relevant to learners needs. The Ministry for Education and Employment continue to support the programme and wish to build on the number of schools delivering Achieve, with ongoing support from the HSBC Malta Foundation.
Prince's Trust International is also working with the Ministry for Education and Employment to roll out the Get Into programme in partnership with employers from sectors with identified skills shortages. Following a pilot of five programmes across the hospitality, retail, customer care & healthcare, 62% of young people gained employment. Prince's Trust International are now engaging with employers to secure their involvement and funding to roll out the programme at scale in 2018.
Jonathan Townsend, Chief Executive of Prince's Trust International said:
"The programmes in Malta are a great example of how we can work together with partners to help young people reach their potential and transform their lives. We look forward to building on the success in Malta and supporting many more young people across the island to achieve in education and get into jobs. I would like to extend our sincerest thanks to our delivery partners and the many businesses that have made this possible."
The Honourable Evarist Bartolo, Minister for Education and Employment in Malta, said:
"The impact of Achieve has been so powerful, since it was first piloted in 2015, that it is now a recognised qualification for entry to post-secondary education in Malta. We are very proud that in the last three years the programme has been implemented in 33 schools and centres in Malta and Gozo, and we look forward to supporting many more young people in years to come. We are also very pleased that the Get Into programme has helped groups of young people gain employment, not only by developing their sector-specific employability skills, but also soft skills, such as confidence and teamwork."
Andrew Beane, CEO HSBC Bank Malta, said: 
"HSBC believes that all young people have great potential provided they are afforded the opportunity and support to make the most of their particular talents. We are very proud that we have been able to help more than 300 young people reengage with education through the Achieve programme in Malta over the last few years. We are also delighted to have supported and employed Get Into participants."