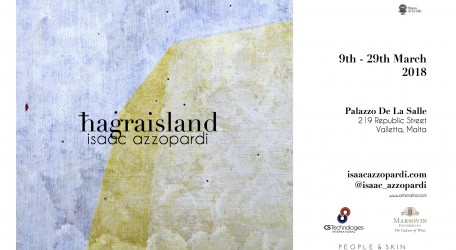 Through the use of construction material, appropriation and rubbing techniques, ħaġraisland attempts to explore Maltese landscape.
The colours yellow and blue for the land and sea/sky, are a way to simplify the relationship inherent to any island. But the colours are in themselves 'objects'; symbolic of the qualities of what they represent. The yellow — a land, a country, history, identity, a stone in your hand, its very dust, home. The blue — a beyond, sea and sky both a cultural gateway and a bane.
By utilising rubbing techniques, an assertion to the importance of the tactile is made; touch is crucial to our relationship with the spaces we inhabit— physical, historical, narratorial, our identity— and also because it is an agent of the intimate.
In the paintings, this intimacy provokes an ideal of what this country looks like in our nostalgia,
be it a real, memorial nostalgia or an unreal, idealistic nostalgia. In the sculptures the use of the tactile draws attention to the act of colouring the concrete bricks, as an attempt at recreating the brick as an object per se. The act of rubbing is also a ritual of reconciliation; the concrete brick is as part of the Maltese narrative as the limestone brick is.
Appropriating Austin Camilleri's Stones (1999) allows for a re- contextualisation, or an update, of his idea of Maltese 'sacred'; the golden stone is recognised as an alchemised object; a symbolic embodiment of Maltese-ness. Despite the irony, an important comment on the perceptions of the Maltese space and the perception of its image lies in the work.
The central references for this show are Austin Camilleri Stones (1999); So Ho Duh Rubbing/Loving Project (2014); and Anselm Kiefer.
Special thanks to Marika & Charlie Azzopardi, Aaron Bezzina, Matthew Attard, Krystie Gerada, Ritty Tacsum, Ryan Tabone, Aidan Celeste, Kane Cali, Carl Caruana, Emma Fsadni.