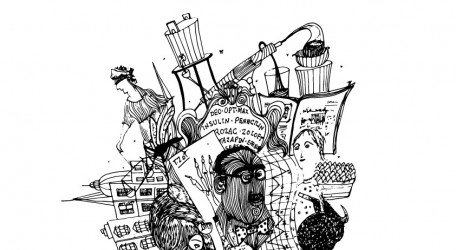 Scientist and artist Ira Melkonyan weaves together a story of personal family history, scientific research, and pharmaceutical treatment in psychology, spanning a period of around 100 years in the rubberbodies collective' newest performance. The performance, "Grandma, Temi and the Crimean Fever" will be premiered during the Science in the City festival on Friday 27th September at Palazzo Castellania (Ministry of Health), 15 Merchants Street, Valletta.
Melkonyan's storytelling will appeal to the curious and the adventurous, as it is told from within Valletta's Palazzo Castellania. The journey culminates in a tiny, unattended room that holds the knowledge of many decades of medical research in Malta. It was in this laboratory in 1905 that physician and archaeologist Sir Themistocles Zammit discovered the Mediterranean strain of Brucellosis, also known as Bang's disease, Crimean fever, Gibraltar fever, Maltese fever, Mediterranean fever, rock fever, or undulant fever.
What is the connection between Melkonyan's grandmother and Sir Zammit's research? Written by Ira Melkonyan and Vedrana Klepica, with Katarina Pejović as the dramaturg, the 30 minute tour features a fascinating tale which intertwines personal narrative with concerns about medical practice in the 21st century, addressing diagnosis and medication in today's society, particularly in the field of psychology. Directed by Jimmy Grima.
Free Admission on Friday 27th September only. The shows will be at 18.30, 19.30, 20.30, and 21.30. Doors open 5 minutes before each performance and participation is limited to 15 persons per performance. Additional ticketed performances will be presented on 28th September, 3rd, 4th and 10th, 11th, 12th October.
The rubberbodies collective thanks the Ministry of Health and the School of Performing Arts at the University of Malta. The show is supported by the Malta Arts Fund and the Science in the City festival. Further details can be obtained from the website: http://www.rubber-bodies.com and event link: https://www.facebook.com/events/637056139651977/
The festival programme can be downloaded from www.scienceinthecity.org.mt or festival updates followed on Facebook at: www.facebook.com/ScienceInTheCityMalta
The "Researchers' Night – Science in the City" festival is organised by a consortium of national organisations that is led by the University of Malta Research Trust, and the Malta Chamber of Scientists. The partners are MCST, Where's Everybody Ltd, Valletta Local Council, MEUSAC, the Public Broadcasting Services Ltd, MCAST, iCreatemotion, the European Commission Representation in Malta, the Malta Council for Culture and the Arts, Notte Bianca, Valletta 2018 Foundation, Malta Chamber of Pharmacists, King's Own Philharmonic Society and St James Cavalier. The project is supported by the Parliamentary Secretariat for Research, Innovation, Youth and Sports, Vodafone and Microsoft Innovation Centre.
The festival is co-funded by a competitive award from the EU's FP7 Programme and the Malta Arts Fund.