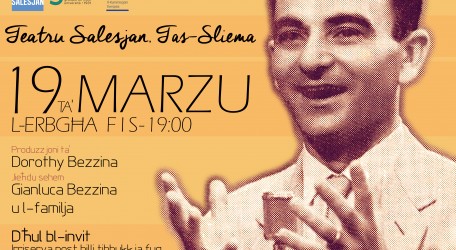 In order to commemorate Gaetano Kanta's contribution to the scene of local pop music in Maltese, of which he was a pioneer, his family, including his grandchildren Gianluca and Dorothy Bezzina, will be holding a live tribute concert in honour of his legacy in the field. The concert, held in collaboration with L-Għaqda tal-Malti – Università and Teatru Salesjan, aims at reviving these songs, while giving them a more contemporary twist.
The concert will be held on Wednesday, 19th March at Teatru Salesjan, Howard Street, Sliema. Entrance to the concert, starting at 7:00pm, is by invite. To secure a place kindly contact us on 99032014 / 21683068, or on [email protected] Free parking will be provided in St. Patrick's grounds, very close to the theatre.
Do not miss out on this evening of entertainment for all generations!
The concert is supported by:
The European Commission's DGT field office in Malta, JM Vassallo Vibro Blocks Ltd, Print Right Ltd, Sounds Good, Pac Man's Take Away, and Paul Target.
Who was Gaetano Buttigieg?
Gaetano Buttigieg, better known as Gaetano Kanta, wrote his first Maltese songs in his youth, back in the fifties. His love towards the Maltese language led him to challenge the idea that the language sounded too harsh for popular songs. He was creative and original in his thoughts, and through a good number of songs, which he wrote to popular Italian and English tunes, he proved that Maltese can sound as good as any other language when words are skillfully adapted.
Buttigieg made use of the Rediffusion to broadcast his songs, which at the time was a modern means of communication. On general reuqest by Maltese listeners, his songs were published in booklets, reaching a total of twenty. These books were even sent to Maltese emigrants in Canada and Australia.
For those who recall the lyrics to the songs penned by Gaetano Kanta, this evening will not only be an entertaining one, but will also evoke a feeling of nostalgia through the various themes the songs explore. These include love and romance, life in Valletta under British rule, as well as children's games and their mischievousness.