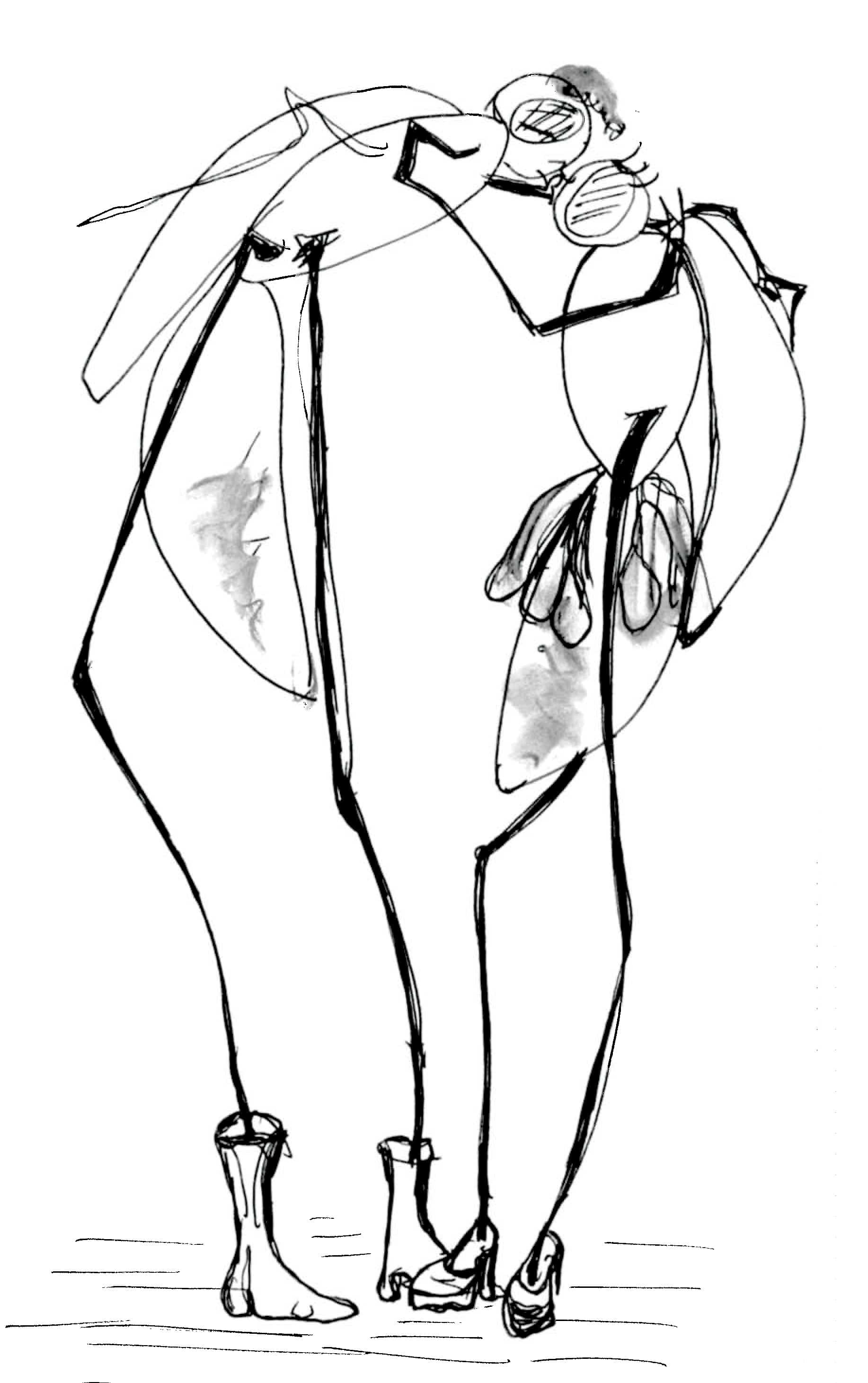 Pictured above:  Liliana Fleri Soler's artistic sketches of her humanised fruit flies 
Few people know that the fruit fly is a model organism widely used in genetic research studies for several human diseases, such as Parkinson's and Alzheimer's diseases. The fruit fly is also being used to study what causes aging, immunity, diabetes, cancer, and even drug abuse. Locally, Dr Ruben Cauchi from the University of Malta is using fruit flies to study muscle wasting diseases.
One can discover the fascinating biological mating habits of fruit flies through the street sculptures by the artist Liliana Fleri Soler during the Science in the City festival being held for the first time in Valletta on Friday 28th September. Liliana created six-foot tall papier-mâché fruit flies, depicting the various stages of mating, which is strikingly similar to us humans. These large fruit flies will be exhibited at the upper part of Merchant Street, opposite Auberge d'Italie.
Presented in different human-like positions, Liliana's work shows the fruit flies in amusing and humanised ways. One particular life-sized model shows the female fly sitting at a table sipping a drink, while waiting to be courted by the male. The artist embellished the female fruit flies with accessories, like a tiny green handbag and pink shoes. Her collection can be viewed as a study of these tiny creatures' behaviours, which have inspired her artistic work while offering food for thought and a humourous experience to visitors.
Although fruit flies share plenty of genes with humans, fruit flies do have their differences. Fruit flies are just 2mm long, with brick red eyes and yellow-brown in colour. Males can be easily distinguished from female, who can lay up to 3000 eggs throughout their life in rotten fruit or other similar places — the bane of farmers worldwide.
During courtship some similarities could be seen, as reflected in Liliana's sculptures – an art piece curated by Lily Agius. The male sees an 'attractive' female and positions himself to be seen. He then taps her sending many signals with his touch, swiveling back to 'sing' to her by vibrating his wings. If the female consents, she lets him explore her followed by mating.
Science in the City is part of EU-wide event Researchers' Night held annually on the fourth Friday of September. The event aims at bringing the public closer to researchers and scientists through science-inspired art, music and theatre.
Science in the City festival is supported by the EU FP7 Programme and the Malta Arts Fund.  The event is coordinated by The University of Malta, in partnership with the Valletta Local Council, MEUSAC, Malta Council for Science and Technology, Malta Council for Culture and the Arts, Where's Everybody, Malta Chamber of Scientists, Notte Bianca, iCreatemotion, Lily Agius Gallery, St James Cavalier and the University of Malta's Research, Innovation and Development Trust (RIDT).