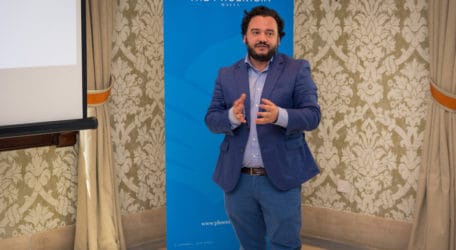 Acclaimed British director Peter Greenaway to attend as special guest.
The fourth edition of the Valletta Film Festival (VFF), organised by the Film Grain Foundation, will take place between the 8th – 17th June 2018, and will include a new venue and over 40 Maltese premiers of international films. International guests are lined up to attend, including acclaimed British director Peter Greenaway, who will be present for a special screening of The Greenaway Alphabet on Saturday 9th June 2018.
A total of seven feature films will compete for five Triton awards adjudicated by a feature film jury and will premiere at the festival's flagship venue of Pjazza Teatru Rjal. The awards handed out in this section are Best Feature Film, Best Director, Best Performance, Best Cinematographer and Best Screenplay. There will also be a total of 7 documentaries competing for Best Documentary and Best Cinematography for Documentary and over 24 short films competing for the Best Short Film Prize. Award winners will be announced at the closing ceremony on Saturday 16th June. All films are also eligible for the Valletta Film Festival Audience Award.
The festival will kick off on 8th June with the opening screening of 'The Saint Bernard Syndicate' by Mads Brugger, the first film selected for competition at this year's VFF. It tells the story of two hapless Danes who travel to China in an attempt to breed and sell Saint Bernard dogs to the growing Chinese middle class.
On Saturday 9th June, Peter Greenaway (BAFTA 'Outstanding British Contribution to Cinema', winner 'Best Artistic Contribution' at the Cannes Film Festival and nominee for the Berlin Golden Bear and the Palme D'Or) will be present for a screening of The Greenaway Alphabet, a documentary by his wife, Saskia Boddeke, on the filmmaker and artist's work. Peter Greenaway will also be giving a masterclass titled 'Water' on Sunday 10 June at the Phoenicia hotel.
A new screening venue has also been introduced to the festival: the newly-renovated Valletta Campus Theatre (ex-MITP), which will be replacing last year's Herbert Ganado Gardens in order to accommodate more screenings. Pjazza Teatru Rjal will, for the fourth year running, host all fiction feature in-competition titles, and some special screenings, with Spazju Kreattiv and Embassy Cinemas screening documentary, shorts and sidebar sections.
The main partners of VFF 2018 are HSBC Malta, the Phoenicia Malta, the Arts Council and Valletta 2018 Foundation.
VFF is also being supported by Malta Airport Foundation, Audi by Continental Cars, Malta Contemporary Art, Palazzo Prince D'Orange, The Vincent, Cleland & Souchet, Cisk Pilsner, Campari Tonic, I Can Do Things, Valletta Local Council, Pellikola, Kinemastik, Remax, Growth Gurus, UNHCR Malta, Embassy of the Kingdom of the Netherlands, Embassy of the Federal Republic of Germany, Embassy of France, Istituto Italiano di Cultura, British Council, Transcripta, Aditus Foundation, Malta Gay Rights Movement, Engel & Volkers Sara Grech.
The Venue partners of Valletta Film Festival 2018 are Pjazza Teatru Rjal, Valletta Campus Theatre – School of Performing Arts, Spazju Kreattiv and Embassy Cinemas.
The Media partners of Valletta Film Festival are Times of Malta, XFM and Lovin Malta.
Tickets for teh festival are available from www.vallettafilmfestival.com.
For more information, and regular updates, check out the Valletta Film Festival Facebook page as well as the official website.