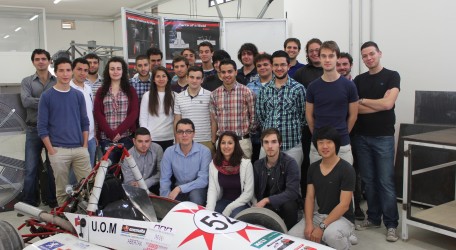 Car racing enthusiasts will have a great experience in seeing a Maltese built Formula-style racing car at this year's Science in the City Festival on Friday, 27th September 2013 from 6pm onwards in Valletta. The car on display at City Gate, Valletta, was built in 2007 and competed in Fiorano, Italy. A completely new car will be built in the next few months, by a fresh team of students, which will be competing in the prestigious international competition 'Formula Student' in Silverstone.
Brought together by the love of cars, engineering and passion, a group of University of Malta students set up the University of Malta Racing (UoMR) association. At City Gate they will be on hand to talk about the cars' custom design and how it works.
UoMR dedicate several hours every week to research, design, build and race a Formula-style racing car to be able to represent Malta and University abroad.
"We faced two challenges: apart from being successful technically, the car also needs to be economically feasible to produce on a commercial scale. This effectively meant a trade-off between realistic costs and high quality standards. This daunting challenge entailed extensive research and development, bearing in mind that there are around 120 universities from around the world taking part in this competition," said Leonard, member of the UoMR team.
"This will be just the second time the University will participate in an event such as Formula Student. Now that we will be matching the capabilities of our car with those from other countries, we would like subsequent University of Malta students to take up this challenge, and year after year, continuously build upon the knowledge of their predecessors and improving the overall performance of the car," said Denis, member of UoMR.

Visitors will get the opportunity to try their hand driving a specially built racing simulator. For a small donation for a good cause, visitors will have the chance to win a once in a lifetime opportunity: a 'Ride in a Supercar' at Paqpaqli Ghall-Istrina in December 2013. More information can be found on our Facebook page 'University of Malta Racing' and website: www.uomracing.com.
The UoMR would like to thank their partners: OKMalta.com, Trelleborg Sealing Solutions, Adpro Instruments, Alarm Tech, G Molton, Seifert mtm Systems; Scan Malta, Storm Design, Cycle World, Print It, SKF, Malta Council for Science and Technology (MCST), and collaborators: RIDT, Malta Chamber of Commerce, and the University of Malta.
'Science in the City' forms part of the pan-European Researchers' Night held annually with the aim for adults, young people and children alike to creatively engage with science in an entertaining way.
From 6.00pm onwards the main streets of Valletta and a number of venues and spots will be hosting various interactive science shows, street art installations, graffiti art, music concerts, art exhibitions, children's shows, live experiments, talks, and tech areas. The public is invited to participate and experience art and science.
The Science in the City festival is supported by the EU's FP7 Programme and the Malta Arts Fund. The Science in the City festival event is coordinated by the Research Trust of the University of Malta (RIDT), and the Malta Chamber of Scientists in partnership with the Valletta Local Council, MEUSAC, the Parliamentary Secretary for Research, Innovation, Youth and Sports, European Commission Representation in Malta, MCST, Malta Council for Culture and the Arts, Where's Everybody, PBS, Notte Bianca, iCreatemotion, Vodafone, Valletta 2018 Foundation, Microsoft Innovation Centre and St James Cavalier.
The Science in the City website www.scienceinthecity.org.mt will be shortly updated with a full programme or follow the festival on Facebook for regular updates: www.facebook.com/ScienceInTheCityMalta.