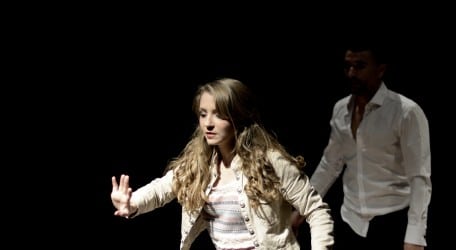 Photography by Andrew Rizzo
A new Dù Theatre original devised piece written and directed by Simone Spiteri
What would life be like if humans could tap into every single memory stored in our brains at will? If we could reconnect with every single thing that has happened to us- whether it was something we liked, hated, feared or completely forgotten? And given a choice which specific memories would one personally choose to revisit again- and why?
Forget-Me-Not is Danny's story. A normal, routine-obsessed man whose life seems to tick all the right boxes without ruffling any feathers: something he considers to be an achievement. But things change one day when he randomly spots someone on his work commute who looks uncannily like someone from his past. Someone he had completely, or almost, forgotten about.
Danny embarks on a whirlwind dangerous journey into his past- but the deeper he sinks into it the more he starts losing touch with the present and the more he starts running the risk of having no future at all. This chance meeting sends him down a dangerous path of memories, instability and addiction and what he has suppressed for years comes back to hit him in full force leaving him no choice but to face a dark period of his early life which he has, subconsciously, fought so hard to simultaneously overcome and forget throughout his adult life.
Forget-Me-Not kicks off a celebratory year for Dù Theatre as 2014 marks the 10th year anniversary since its inception by Simone Spiteri. Over the past decade the company, made up of 5 women at its core, has grown into a versatile theatre group with a body of work spanning different genres and collaborations with tens of artists from various artistic disciplines as well as several experiences away from the Maltese shores in festivals around Europe and North Africa.
As the first of a series of projects designed to celebrate this landmark birthday Forget-Me-Not is a new ground of exploration for the group. Obsession, illusion, loss, acceptance and reconciliation are diversely explored through this work, painstakingly devised from the ground upwards over the span of the past few months. In-keeping with the group's ethos Forget-Me-Not is a collaboration between resident Dù members Simone Spiteri and Magda van Kuilenberg, dancers Elise Ellul and Yosef Farrugia and musicians Tim Ellis from local folk band Stalko (also Dù's music director since its inception) and Chris Galea who needs no introduction as an amazing actor but who is an equally talented musician. The company has been working on the piece since last September in a process which sees the story built progressively through workshops between the actors, dancers and musicians. The piece seamlessly merges the physicality of dance with all the diverse aspects of acting and pushes the boundaries even further by bringing in a multi-media approach which completes the story-line. The music is composed entirely from scratch, sampling sounds and voices of the musicians and performers themselves which will be manipulated and played live by the composers during the performance.
The play will run at MITP theatre in St. Christopher street Valletta on the 15th, 16th, 21st, 22nd and 23rd February 2014 at 8pm. Opening night will be followed by a small reception with free wine and nibbles. Tickets may be bought from St James Cavalier on 21223200 or [email protected]
For more information on the group and the production you can like the company's facebook page or follow the production blog on http://dutheatre.wordpress.com/