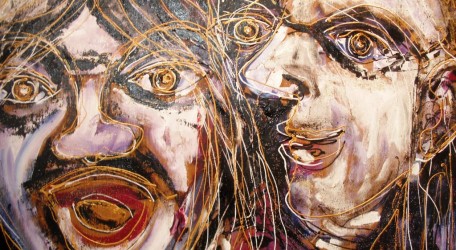 Muse is an art exhibition by the Maltese artist Carmel Bonello at Palazzo De Piro in Mdina Malta which was officially opened by The Hon. José Herrera MP – Parliamentary Secretary for Local Government and Culture. The exhibition is a collection of his recent artworks and selected drawings and paintings from his personal collection. The exhibition will be open until Friday 21st March 2014. The opening time is from 10.30am until late in the evening from Monday to Sunday.
Carmel Bonello was  born in Siggiewi, Malta in 1960. He is an ardent expressionist of great strength and bold impact. His dynamic energy, which is constantly seeking new vents, could be the basis of his individuality, his personal art and style. Carmel Bonello believes in mood, his spontaneity captures the fleeting moment and galvanizes each instance into permanent and concrete form. It is incredible how a few strokes of his brush evoke a mood, an atmosphere.  The simplicity and economy in line and composition lend his work clarity and immediacy. With the use of black and chromatic colours the artist projects a tremendous force, full of life. The observer is left with the desire to look deeper into the significance of the painting thus creating a sense of debate between one's self and the piece.
His life experiences have moulded him into the person he is today and have allowed him to adapt his art to share his conscious and unconscious thoughts. The artist had several solo exhibitions in Malta, France and Germany. Many of his works are to be found in Malta and different countries around the world in private and public collections.
For more information you can visit his website at www.carmelbonello.webs.com or visit his Art gallery in Mellieha to browse through his work.
Facebook page: Carmel Bonello Artworks