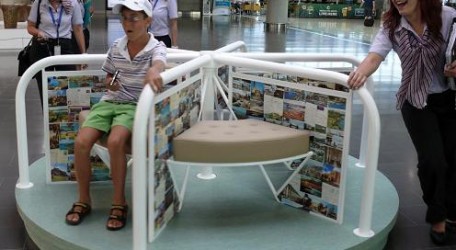 Pictured above: "Merry-go-Round" by Vince Briffa
Travelling to almost any destination requires passage through the space of an airport. For business or for pleasure, for a short visit or permanent stay, one departs from one airport only to arrive at another. With this concept in mind, six artists from three Mediterranean countries of the European Union have created interactive installation works of art for Larnaka International Airport in Cyprus. These artists are Vince Briffa and Liliana Fleri Soler (from Malta), Theodoulos Gregoriou and Klitsa Antoniou (from Cyprus), and Dimitris Alithinos and Eleni Panouklia (from Greece).
The art exhibition of interactive artworks under the title "From Arrival to Departure" is being organised by Laiki Bank Cultural Centre in collaboration with Hermes Airports.
Being held on the occasion of the Cyprus Presidency of the Council of the European Union and within the framework of the cultural events organised for this period, the exhibition will remain on display until the end of the Cyprus Presidency of the Council of the European Union in December 2012.
Vince Briffa says: "Similar to an airport departure lounge, the Merry-go-Round is a place of transition and conversion; its ride being momentary or transient and through its rotation on a fixed axis, it simultaneously imitates time creating a symbolic connection in the journey and the experience between people and places."
When sitting on the "Merry-go-Round" on display, the traveller can study a large number of used postcards showing various locations, cities and countries, at various time periods. This work metaphorically links on a visual level the present user to past travellers and their destinations, in essence, their experience.
"I will get there somehow…" is the title of the art installation by Liliana Fleri Soler. She draws imagery from both the human form and experience. This is an interactive sculpture about journeys – getting from place to place in one's physical body, in one's mind or simply in one's spirit. In the sculptures, the subject is using "alternative" means of transport, organisms which are unlikely to be an actual form of transport in reality but many of which have been an inspiration in the invention of modern transport systems. Turning the lever, the viewer sees how they travel alternatively.
The Director of the Laiki Bank Cultural Centre and curator of the exhibition, Marina Vryonidou-Yiangou, notes: "The artworks that a visitor will discover while passing through the halls of Larnaka International Airport, explore the temperament and emotions of the traveller and the traveller's relationship to the journey from arrival to departure.  Each one of these works includes features such as sound, light or play that encourage interaction with the viewer, creating not just a sense of fun but pause for reflection, thus enriching the experience of the travelling public in an otherwise busy utilitarian space."
Ends