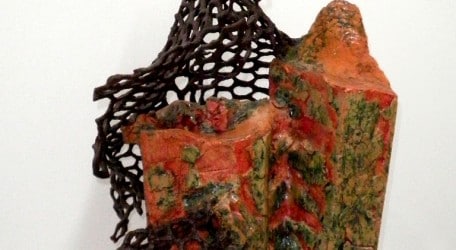 Above: Ceramic work of art by Valerio Schembri
A group of Maltese ceramists are in Cyprus to take part in the 8th edition of joint ceramics exhibition by Maltese and Cypriot ceramists. The 11 Maltese ceramists displaying their works are Charles Sammut, Mario Sammut, Antoine Paul Camilleri, Paul Haber, Sina Micallef, Valerio Schembri, Joseph Agius, Sue Mifsud, Kenneth Grima, Ray Abela and Angelo Agius.
More than 60 works by Maltese and Cypriot ceramists will be on display at Larnaka Municipal Gallery, Cyprus until 31 December. Twenty-eight Cypriot and Maltese ceramists are participating in this ceramic art exhibition held alternatively in Cyprus and Malta since 2005 which, all along, has been actively supported by Emirates airline.
Mario and Charles Sammut are heading the group of Maltese ceramists, while Vassos Demetriou and Efthymios Symeou are heading the Cypriot ceramists who are all members of the Cyprus Ceramists and Potters Association.
As in previous years, the exhibition is an inspirational showcase of contemporary ceramic works from Cyprus and Malta, wherein some of the best ceramists from both Mediterranean islands are taking part.  Apart from being supported by Emirates Airline, this edition is sponsored by Larnaka Municipality, Cyprus Tourism Organisation and the Ministry of Education and Culture of Cyprus.
With the aim of further dialogue and exchanging of ideas between the participating ceramists, the Maltese ceramists will be in Cyprus for the exhibition's opening by the Mayor of Larnaka, Mr Andreas Louroutziatis. Their presence reciprocated the attendance of their Cypriot colleagues for the opening of the previous exhibitions in Malta.
Emirates Manager for Malta, Paul Fleri Soler said: "Emirates has been supporting this artistic initiative because the airline believes that the exchange of cultural ideas between the two Mediterranean islands can actively foster creative collaboration and better understanding between the two people. This fits perfectly Emirates' broader policy of encouraging further artistic, cultural, academic, and commercial exchanges between Cyprus and Malta."
Continues on page 2/…
03.10.2012
Emirates supports ongoing Maltese and Cypriot ceramists collaboration / page 2
The previous editions were held at Palazzo Vilhena, Mdina, (2005); Galleria Kypriani Gonia, Larnaka, (2005); Auberge d'Italie, Valletta (2007), Municipal Gallery, Larnaka (2008,2010), St James Cavalier Centre for Creativity, Valletta (2009, 2010) and Bagheria (Palermo) in Sicily in 2011.