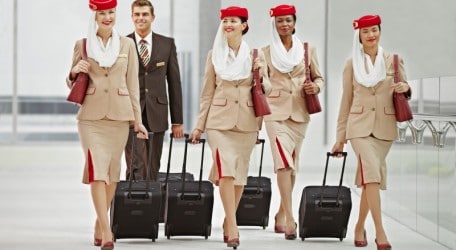 Emirates Airline, one of the fastest growing airlines in the world, is holding its third Cabin Crew Open Day in Malta this year on Saturday 31st August at the Corinthia Hotel, St George's Bay, St Julians.
The Cabin Crew Recruitment Open Day offers interested applicants the opportunity to explore their dream job and learn about living in cosmopolitan Dubai. A thriving metropolis, Dubai offers an exceptional lifestyle and a vast range of leisure and cultural attractions, in addition to the sunny weather all year long. At the Open Day, interested men and women will be able to speak to the Emirates recruitment team and to get insight into the company and working onboard.
Emirates currently serves 134 cities around the globe with a young, technologically-advanced fleet of 201 wide-bodied aircraft that are equipped with industry-leading comforts. Additionally, Emirates has 192 wide-bodied aircraft on order, worth more than US$71 billion, and is the leading customer of the Airbus A380 with 35 in its fleet and 55 on order. It is due to its rapid, dynamic expansion that Emirates is seeking 4,000 new cabin crew this year. Emirates offers diversified job activity onboard with a truly international team: over 17,000 flight attendants, from more than 130 countries, speaking over 50 languages.
In Malta, Emirates Airline has successfully developed a niche for anyone travelling to the East and to Australiasia. The airline started its first operation from Dubai to Malta in 1998 and currently operates a daily flight using a Boeing 777-200ER aircraft with a short stopover in Larnaka, Cyprus. Effective from 1st September 2013, Emirates will re-start operations to Tripoli three times weekly with a stopover in Malta while the service to Cyprus will be four times weekly.
Emirates seeks dedicated employees, who are open-minded, helpful, friendly and service-oriented. Applicants have to be at least 21 years old at the time of possible recruitment and are requested to bring an up-to-date curriculum vitae (CV) in English, and a photograph. Fluency in English (written and spoken) and at least a high school certificate are essential. Candidates must not have tattoos that would be visible while wearing a uniform and must have a reach of 212cm while standing on tiptoes.
Applicants are encouraged to register online in advance for the Open Day, and can find further information about career opportunities with Emirates at www.emirates.com/careers.