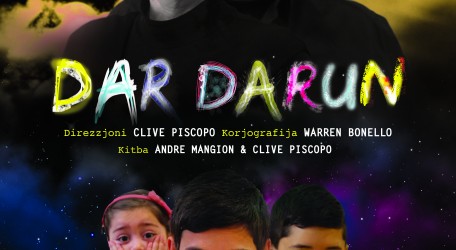 30, 31 May & 1 June – City Theatre, Valletta
A staggering 300 tickets for this much awaited theatre production were sold in the first 24 hours alone and this promises an even more exciting journey for Dar Darun. This huge surge of interest revolves around one question: What happens when 5 young men decide to celebrate their friend's bachelor's party in an old house which hasn't been opened for 70 years.
Directed by Clive Piscopo, penned by Andre Mangion & Clive Piscopo, and with choreography by Warren Bonello, DAR DARUN features an incredible cast of upcoming talent.
This theatrical journey started months ago when producer Clive Piscopo devised a project aimed at finding relatively unknown talent and orchestrate it into a memorable theatre experience. An overwhelming number of 130 applicants showed interest but only 20 individuals could be chosen to form cast and crew.
Dar Darun tells the story of Jason, Tiziano, Austin and Zack who decide to celebrate their friend Bobby's bachelor's party in an old and abandoned house on the outskirts of a quiet village. They thought they were in for a great boy's night out like the old times. But away from their slightly possessive yet lovable partners, little do the five men suspect that they are in for their unexpected night ever.
Dar Darun is their unforeseen, colourful and incredibly entertaining journey.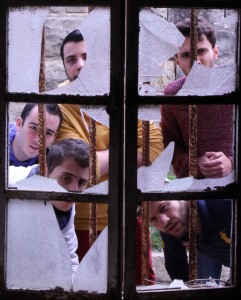 Dar Darun is penned by Clive Piscopo, who wrote the recent hit series Anġli: Kapitlu Ġdid on TVM, and Andre Mangion, who received the award for Promising Young Writer 2013 in last year's Konkors Letteratura Żgħażagħ for his novel Tattoo. Choreographer Warren Bonello is most well-known for his choreography of Kurt Calleja's This is the Night.
"I was incredibly surprised at the reaction Dar Darun caused," says Piscopo, who has also directed the 2 winning production in the Social Theatre Festival for 2 consecutive years. "It gave a very positive sign that theatre in Malta is very much alive, and there is a huge thirst by upcoming talent to find a space, collaborate and create."
In order to ensure a production of the highest quality, Piscopo also invited some of the best professionals in the field – mainly Mario Philip Azzopardi, Malcolm Galea, Warren Bonello and David Micallef – to collaborate with the actors and crew and provide workshops in their training period.
These were 2 exceptionally great months of intense training, experimentation and artistic collaboration. The very enthusiastic team gelled immediately and the result seems like it's going to be one memorable night of theatre and spectacle.
"Which is why we were also completely stunned and humbled by the incredible positive reaction we received when booking opened," admitted Piscopo. "300 tickets were sold in the first 24 hours … This has made us all very excited and we are looking forward more than ever to share Dar Darun with our audiences. Honestly, it's a great privilege to get to do something you really love and receive so much support."
Dar Darun is supported by the Malta Arts Fund and will be staged Friday 30th May, Saturday 31st May and Sunday 12st June at 8pm, at the City Theatre in Valletta. Tickets at only €10 can be purchased from www.ticketline.com.mt or from Embassy Cinemas box office in Valletta.