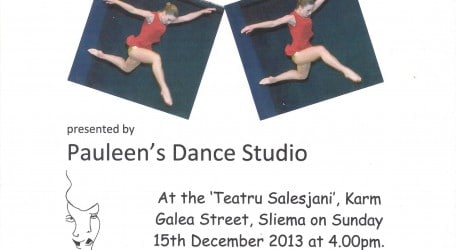 Creativity through Dance is this year's  title for  Pauleen's Dance show, which will take place on Sunday 15th December 2013, at 4.00pm at the Teatru Salesjan, Howard  Street, Sliema.
With almost thirty years of dance experience, this year's show should be an enjoyable family entertainment.  Pauleen, gives freedom to her able teachers to be expressive in their work and use their individuality to offer that element of curiosity to her audience.
Being an artist herself, she believes in this strong concept of creativity and innovation, without having to be a replica of other dance artists.
For more information please contact Pauleen on 99403764. Parking should be no problem and tickets will be available at the door.