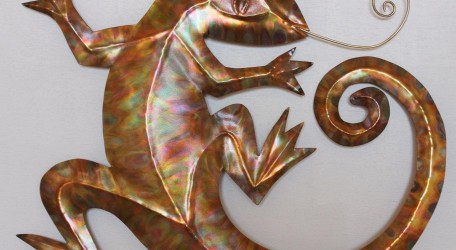 Pictured above:  Work in copper by Jackie Roberts, metal designer
Three jewellery designer/makers, two metal artists, a textile designer/weaver, a designer, a stone sculptor and a beauty chef found themselves very much a micronation in the land of Maltese craft. They recognised the quality and skill in each others work, the desire to re-establish craft as a valuable part of cultural life and the need to promote excellence in design and making contemporary craft of the MalteseIslands. In 2013 they decided to form MAKERS MARK (MM), a registered foundation established to progress their ethos and objectives; to build alliances and work closely with other selected makers and with designers, businesses, and organisations in the MalteseIslands and overseas.
Participation in Malta Design Week provides a creative platform for MAKERS MARK to stage  the first high-profile exhibition of the group's work.  After going through a rigorous selection by the Malta Design Week (MDW) organisers, the MM founders Nadege Cassar and Charlene Mercieca (from Malta) together with Rachel Robinson, Pat Holtom, Jackie Roberts, Karin Grech, Nancye Church, Jayne and Paolo Giordanella (from Gozo) were delighted to be chosen to showcase a selection of their work, and explain the skills and the design and making processes behind the finished products.  Their exhibition 'Craft Nation – The Kingdom of Tactility' invites the public to enter a space within fort St.Elmo where artisans and designers rule; where beautiful objects are valued and craft is brought to life.
Malta Design Week (MDW) opens to the general public at the newly restored historic fort St Elmo in Valletta on Saturday 17 May at 4pm and will then be open each day until Saturday 24 May from 10am-10pm with a full programme of exhibitions, events, installations, talks and satellite venues.  MDW is  presented by 808; an NGO responsible for a year-round programme of design related activities which aims to affirm Malta's reputation as a hub for Mediterranean creativity, and to sustain itself as a biennial design festival of international repute.
MDW 2014 has declared itself a micronation, a theme which the MAKERS MARK group thoroughly identified with.  MDW organizers explain the concept:
"Micronations are born through declaration: an expression and desire to separate and exist independently.  Outstanding design abandons the conventions of its predecessors and establishes a new set of rules, existing in its own scale of measure."
MAKERS MARK embraced the theme and this is what they have to say about their contribution to MDW:
"We design and make objects which engage the senses.  We are inspired by our surroundings, our imaginations and by our customers. In turn we inspire them.  Our work is made to be touched or worn, smelt, sat upon, used and enjoyed.  We believe contemporary craft can be functional or purely decorative, sometimes a combination of both.
We use identifiable, high quality raw materials – natural or recycled – which we craft with our own hands and tools drawing on practical skills and experience to express our artistic individuality.  Our designs are not concepts; they are actual objects of desire with a known provenance, hence the name MAKERS MARK.  We are in complete control of the whole making process from formulating the design through to the finished product.
Our Malta Design Week exhibition illustrates the whole "journey" starting from inspiration and design (notes, sketches, raw materials), photographic documentation of the making to showcasing the final products. We will demonstrate various manufacturing processes during the exhibition, with the makers explaining the process as well as their tools and where the raw materials came from.  There will always be someone from MAKERS MARK on hand to guide the public round the 'Kingdom of Tactility' and answer questions."
Project Manager and 'Queen' of the 'Kingdom of Tactility' is Jayne Giordanella, from Gozo, also the General Secretary of MAKERS MARK.  Jayne explains the process behind the successful entry and designing the exhibition.  The display system itself is Jayne's own original design and making contribution to the exhibition:
"With many years of managing and organisational experience, the roller coaster of highs and lows that comes with the territory of project management is no stranger to me. This project has been no different to any other in that it came with all sorts of challenges, some within my control, the more frustrating ones, not. However it is always a delightful experience to build new relationships and work within a committed team to achieve an ambitious project.
One of the first challenges I faced was how to display the varied works of all nine founder members in different styles and various materials; ferrous metal, precious metal, stone, textiles and beauty products. All these items and information of the making processes needed to be morphed into a professional, presentable and uniform exhibit.  I set about designing a new bespoke display system which I named 'Ex-Box'. It is designed to be a quick assembly, inter-changeable and storable system that will not only serve us for the Malta Design Week event but will provide long term use and flexibility for future displays and exhibits by MAKERS MARK."
MAKERS MARK gratefully acknowledges sponsorship and support from the following businesses and organisations which has made participation in Malta Design Week possible:
Malta Design Week and 808 Foundation, Gozo Business Chamber, Deco Manufacturing, Tac-Cima Woodworks, Caruana & Cini, A&M Printing, Gozo Express Services and Lucas Art Mart.
For further information on MAKERS MARK find us on Facebook: www.facebook.com/MAKERSMARKMalta or view our website: www.makersmarkmalta.com
A full programme of events for Malta Design Week can be viewed at www.maltadesignweek.com