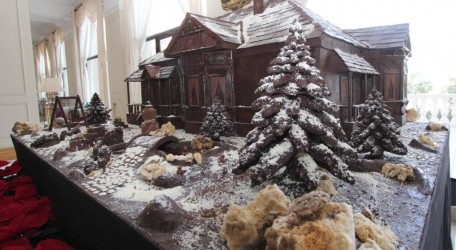 Christmas is with us once again, and as part of the festive season traditions The Westin Dragonara Resort has kept the tradition of setting up a themed Christmas centrepiece. Upon entering The Westin Dragonara Resort, one cannot miss the scent of chocolate set up in the lobby. Adults and Kids alike are fascinated with décor and scent this massive chocolate house entails.
The Chocolate House is the result of three hundred hours of work, two hundred and fifty kilos of chocolate and a team of chefs putting their mind and expertise together to develop this unique village experience.  The Chocolate House features unique details that viewing is definitely a must. Executive Pastry Chef David Calleja, and his team Joseph Galea and Braden Schembri worked for days on this house – it comes fully set with a playing field, a duck pond and a snowman all set in chocolate. The unique detail found in this chocolate house truly makes it one of a kind!
The Westin Dragonara Resort welcomes everyone to visit the Christmas Chocolate House, and would also like to remind clientele that there are few spaces left for the Christmas and New Year celebrations.  For further information and bookings please call on 21381000 or 23745505 or visit www.westinmaltaevents.com.