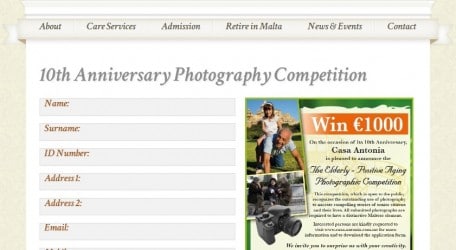 Submissions for Casa Antonia 10th Anniversary Photography Competition will be received until Monday 9 September 2013 at 3pm.
"The Elderly – positive aging" is the theme of the photo competition launched by Casa Antonia Nursing and Residential Home in Balzan, as part of its 10th anniversary celebration. The competition is open to all residents of Malta and Gozo, and participants may submit a maximum of four (4) digital entries which may be in monochrome and /or colour.
Photography enthusiasts are invited to capture elderly persons in a positive way. The entries must be original and are required to show a distinctive Maltese element.
The first 13 placed entries will be considered for inclusion in Casa Antonia's 2014 Annual Calendar. All entries will be judged by a panel of three judges who will select the top 20 entries, which will be displayed during an exhibition at Casa Antonia in autumn.  The presentation ceremony will be held during the opening of the exhibition.
Participation is free of charge. Entry and consent forms may be obtained from the website of Casa Antonia: www.casa-antonia.com.mt. Entries may be submitted either online on the website: www.casa-antonia.com.mt, or submitted personally at Casa Antonia Nursing and Residential Home, Pope Alexander VII Junction, Balzan, during normal working hours until the 9th September.  In the latter case, entries should be addressed to: Casa Antonia – 10th Anniversary – Photo Competition 2013.