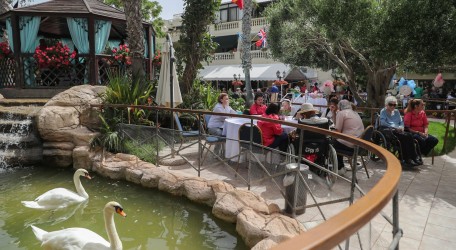 Casa Antonia, Nursing and Residential Home, stages many festivities during the year and Mother's Day is definitely a very special one that all residents look forward to. To celebrate Mother's Day, residents were joined by their loved ones for a sumptuous garden party.
Saturday turned out to be a bright sunny morning with a light breeze, just a beautiful day for the occasion. Casa Antonia's garden was transformed into a magical festive setting, with flowery plants dotted around the pool, while live music of classic pop revivals set the party tone. The party started with a glass of prosecco, while juices, water, tea and coffee followed. In addition to a variety of plated finger food, including lampuki pies, there was also a candy table with lots of cookies, imqaret, cream rolls and delicious almond pastries for dessert.
A lovely gift was distributed to all female residents. Soft music was provided by Lino & Friends.
Casa Antonia General Manager Dr Sarah Cassar said: "For us, our female residents are all women with a mother's heart. We ensure that each elderly resident is well cared for with love and receives our full attention and services. We enjoy organising traditional family occasions that give our residents a sense of home. They appreciate it."
The forthcoming events at Casa Antonia are the annual visit to Ta Pinu Church on Sunday followed by lunch in Marsalforn, Gozo, and for Father's Day the male residents will be treated to an outing and a special lunch in the dinning-room.
Casa Antonia residence has established itself as one of Malta's top nursing and residential homes. Employing over 120 well trained staff enables the home to offer a holistic services and truly personalised care for residents. The 150-bed facility offers long-term care, short-stay convalescence, rehabilitation and respite care and extra services such as hairdressing, beautician, social activities, and catering for private parties amongst others.